An upgraded Lockheed Martin [LMT] Patriot Advanced Capability-3 (PAC-3) Missile Segment Enhancement (MSE) missile successfully intercepted a tactical ballistic missile target in a test Thursday, the company said.
In the test, at White Sands Missile Range, N.M., the interceptor successfully detected, tracked, and intercepted the target. The company said this test was used to verify new missile software and hardware component upgrades that will enable future PAC-3 MSE interceptor performance "to keep pace against expanding threats of today and tomorrow."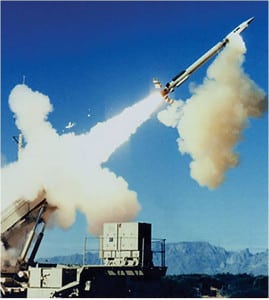 Company spokeswoman Dana Casey told Defense Daily via email this was the first flight test of the upgrades.
Casey explained hardware changes are related to obsolescence redesigns "and offer potential capability improvements for the future."
Casey noted obsolete parts are common in all manufacturing environments and "sometimes require the introduction of newer parts that may require redesign."
The MSE model upgrades the PAC-3 Cost Reduction Initiative (CRI) interceptor with a dual-pulse solid rocket motor to improve the missile's altitude and range capabilities. It is meant to defend against tactical ballistic missiles, cruise missiles, and aircraft.
Full-rate production of the PAC-3 MSE has been ongoing since 2018.
Casey said "we are constantly improving the PAC-3 missile, increasing its capabilities and expanding the missile's ability to defend against the growing number of potential threats."
He added this is standard practice for interceptors to undergo regular updates to adapt to newer technology as it becomes available.
"We are continuously looking for ways to improve the PAC-3 missile, increase its capabilities and expand the missile's ability to defend against the growing number of potential threats," Brenda Davidson, vice president of PAC-3 Programs at Lockheed Martin Missiles and Fire Control, said in a statement.
"Flight tests like this demonstrate Lockheed Martin's commitment to increasing the performance of PAC-3," Davidson added.
Beyond the U.S, nine other countries have signed agreements to procure PAC-3 MSE interceptors: Bahrain, Germany, Japan, Poland, Qatar, Romania, South Korea, Sweden, and the United Arab Emirates (UAE).