The Army has selected eight counter-drone systems that will make up the Pentagon's new joint "system of systems" portfolio as the department aims to eliminate redundant capabilities.
Maj. Gen. Sean Gainey, director of the Army-led Joint Counter-Small Unmanned Aircraft Systems Office (JCO), told reporters Thursday capabilities not selected will be moved into sustainment with future investment focused on improving the "best of breed" systems and ensuring joint interoperability.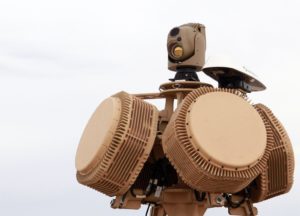 "The JCO conducted an assessment of currently fielded Counter-UAS capabilities, most of which were originally purchased to address urgent and emerging needs of the deploying forces. The assessment determined the selection of current systems for future investments based on criteria such as effectiveness, usability, sustainment and integration," Gainey said.
For fixed and semi-fixed systems, the JCO selected the Army's FS-LIDS drone hunting "system of systems" as its prime capability. FS-LIDS is comprised of radars, electronic warfare tools, kinetic capabilities and common command and control platforms.
Along with FS-LIDS, the JCO selected the Air Force's NINJA and Navy's CORIAN as fixed/semi-fixed systems that are compatible with the Army platform.
The JCO selected the Marine Corps' Light-Mobile Air Defense Integrated System, or L-MADIS, vehicle-mounted drone jammer for the mobile C-UAS systems.
The consolidated portfolio of counter-drone capabilities would then work within the Army's (Forward Area Air Defense Command and Control (FAAD-C2) systems, with integration effort to begin over the next few months, according to Gainey.
JCO is also looking to work in compatible C2 platforms along with FAAD-C2, to include the Air Force's MEDUSA C2 and Marine Corps' Air Defense System Integrator.
For dismounted capabilities, the JCO is moving forward with SOCOM's Bal Chatri counter-drone tool as well as the commercially-available Dronebuster jammer and Smart Shooter kinetic capability.
"This is effective immediately, so all service future funding for procurement will be focused on these systems," Gainey said.
Gainey noted JCO began assessing around 40 total systems before narrowing that down to 30 that were purely C-UAS capabilities.
"For the systems that were not selected for continued investment, the services will sustain those systems until they're able to replace them with one of the interim Joint Counter-UAS systems that were selected," Gainey said.