The Army has selected GM Defense [GM] over two industry rivals for its Infantry Squad Vehicle program to find a new lightweight air-droppable platform, awarding the company a $214.3 million production deal on Friday.
GM Defense beat out Oshkosh [OSK] and SAIC [SAIC] for ISV, the two other participants in the program's prototype phase.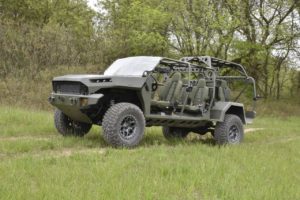 "Awarded the Army's Infantry Squad Vehicle is well-deserved recognition for the hard work and dedication of the GM Defense team and our partner, Ricardo Defense. We are confident the GMD ISV will meet and exceed all of our customer's requirements," David Albritton, president of GM Defense, told Defense Daily. "It's an honor to leverage General Motors' experience as one of the world's largest automotive manufacturers to design, build and deliver the best technologies available to the men and women of the U.S. Armed Forces."
Work on the production contract is expected to be completed in June 2028, with the Army previously stating its acquisition objective as 1,070 ISVs (Defense Daily, Feb. 5). 
GM Defense's ISV offering is based off the ZR2 variants of the company's Chevrolet Colorado midsize truck.  
The company previously told Defense Daily its offering incorporates 70 percent commercial-off-the-shelf components, including "long-travel rear leaf springs, jounce shocks, front upper control arms, steel driveshaft, underbody skid plates and ball-spline half shafts" (Defense Daily, Aug. 27 2019).