GM Defense [GM] has delivered the first Infantry Squad Vehicles (ISV) to the Army, with the company also setting its sights on potentially getting involved in the service's Joint Light Tactical Vehicle (JLTV) program.
During a ceremony on Tuesday to commemorate the ISV milestone, David Albritton, president of GM Defense, said the company could also look to offer capability or establish partnerships for future programs such as the Army's Optionally Manned Fighting Vehicle or the Marine Corps' Advanced Reconnaissance Vehicle.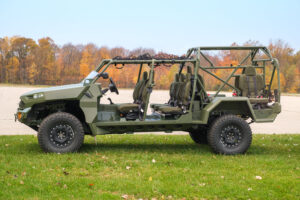 "The ISV is driving the future of military mobility. Our solution to the Army's next-generation transportation needs will provide quality, agility and transportability that soldiers need in any environment," Albritton said during the event.
ISV is GM Defense's first major procurement contract since reentering the market in 2017, with the company beating out SAIC [SAIC] and Oshkosh Defense [OSK] in June for the $214.3 million production deal (Defense Daily, June 26).
The initial delivery of four vehicles arrives about 120 days after contract award, with GM Defense expected to complete production of 649 vehicles by the end of fiscal year 2024. The Army has a total acquisition objective for 2,065 vehicles.
GM Defense's ISV is based off the ZR2 variants of the company's Chevrolet Colorado midsize truck, with the company previously noting the platform incorporates 70 percent commercial-off-the-shelf components.
"The ISV is an incredible example of our ability to bring proven commercial technology into the Army's vehicle arsenal. And this is just the beginning. Our pursuit pipeline is deep and we look forward to more contract awards with our defense customer," Tim Herrick, GM's vice president of global product programs, said during Tuesday's event.
That eye toward future opportunities could include JLTV, which is currently manufactured by Oshkosh Defense but with the Army indicating it plans to competitively award the follow-on production contract (Defense Daily, Feb. 18).
"We have a strong interest in the Joint Light Tactical Vehicle program. If you look at the size and scale of [ISV], obviously this is closer to a commercial-sized vehicle. But as you step up in class and weight, we believe we have the right [capabilities] to win in vehicle sizes of that [JLTV] size," Albritton said.
Albritton said GM Defense's interest in future opportunities could extend beyond looking to deliver full platforms, to include partnerships to offer its hybrid diesel propulsion systems and full battery electric hydrogen fuel cell technologies.
"We believe that, other than doing a fully integrated vehicle like we do on ISV or what we could potentially do on JLTV, in partnership with other companies we could look at programs like the Advanced Reconnaissance Vehicle for the U.S. Marine Corps or the Optionally Manned Fighting Vehicles, which is a much larger vehicle than [ISV], for the U.S. Army," Albritton said. "If you think about power and propulsion solutions, if you think about lightweight [technologies] or cyber security, there's other type of capabilities that we could apply in a partnership for a variety of platforms as well."