Boeing [BA] announced five partners in its F/A-18 E/F Block III Super Hornet bid for Canada's fighter replacement project on Tuesday.
Boeing is one of three current competitors looking to replace the Royal Canadian Air Force's 76 aging CF-18 models. Other competitors include Sweden's Saab with the Gripen E and Lockheed Martin
[LMT] with the F-35.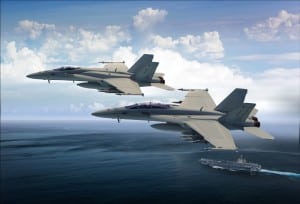 The members of Boeing's team include CAE to work on training, L3Harris Technologies [LHX] for sustainment services, Peraton for avionics repair and overhaul, Raytheon Technologies [RTX] on implementing supply chain and warehousing services, and General Electric [GE] providing onsite maintenance, repair and overhaul support services for the Super Hornet's F414 engines.
Last year, Canada released the final request for proposals for 88 new fighters to replace the CF-18s, called the Future Fighter Capability Project (FFCP). At the time The U.K. government and its commercial partner Airbus planned to compete with the Eurofighter Typhoon (Defense Daily, July 24, 2019).
However, in August 2019, the U.K. government and Airbus notified the Canadian government they were withdrawing from the competition.
Boeing said its Memorandum of Understanding (MOU) with CAE outlined a "robust training solution for the Super Hornet including full mission simulators for pilot and maintenance training and contract logistics support and facility services for the Royal Canadian Air Force," Mario Clement, director of Boeing Global Services' Government Sustainment Programs for Canada, said during a press call today.
The company's MoU with L3Harris Technologies covers sustainment services including depot and base maintenance, engineering and publications support for the Canadian Super Hornet fleet, potential other aircraft depot work, and maintenance scope for Canada's CH-147 Chinook helicopter fleet.
Boeing noted Peraton is already working with Boeing on CF-18 upgrades and they plan to expand the work to cover a "full range" of Super Hornet avionics repair and overhaul work in Canada.
The Raytheon MoU covers implementing supply chain and warehousing services at Bagotville, Quebec and Cold Lake, Alberta plus potential depot avionics support.
Likewise, GE will continue to provide onsite maintenance, repair and overhaul services for the Super Hornet's F414 engines and technical services and engineering within Canada to support Canadian operations and engine sustainment.
"Boeing has built a strong work relationship with all these companies over the years either working on the CF-18 Hornet, the CH-147 Chinook, or on commercial airplanes. We are…pleased to have the opportunity to continue this working relationship with the Super Hornet," Clement added.
Notably, Boeing said final assembly will still take place at the company's facility in St. Louis with the other Block III Super Hornets because it is not worth the investment to conduct final production or assembly in Canada for a relatively short production run.
Instead, the Boeing said it is focusing more Canadian operations on the expected decades of fleet lifecycle support.
The Block III aircraft feature various improvements over Block II Super Hornets, including conformal fuel tanks to add 100-120 nautical miles of range, extending its lifespan from 6,000 to 10,000 flight hours, smaller radar signature, enhanced network capabilities, upgrades to the Lockheed Martin Block II Infrared Search and Track System (IRST) sensor, upgrades to the Active Electronically Scanned Array, enhanced communication system, new datalinks and computer, enhanced engines, and the advanced cockpit system.
Separately, Boeing enlisted the work of Doyletech Corp. to say it provides the best Industrial and Technological Benefits (ITB) to Canada. Canada's ITB policy requires companies winning defense procurement contracts to undertake business activity within Canada equal to the value of the contracts won, with few exceptions.
Doyletech argued a Super Hornet selection would contribute $61.1 billion Canadian, or $46.3 billion U.S., over the expected 40-year total aircraft life. This includes direct, indirect and induced effects.
Boeing has a previous conflict with the Canadian government in its earlier plans to replace the CF-18s. The government previously planned to replace them with F-35s, but in Prime Minister Justin Trudeau's 2015 campaign he promised not the buy it. The government eventually began an open competition.
In 2017, the government planned to buy 18 F/A-18E/F Super Hornets for $5.2 billion as an interim move before completing the full replacement competition (Defense Daily, Sept. 14, 2017).
However, after Boeing started a trade challenge against Canada's Bombardier in the U.S. over complaints it sold a commercial airliner at an artificially low price later in 2017, the Canadian government responded by replacing interim Super Hornets with older Australian F/A-18 Hornets (Defense Daily, Dec. 12, 2017).
Eventually, the U.S. International Trade Commission found in favor of Bombardier, declining U.S. duties on the company as proposed.