Oshkosh Defense [OSK] has received a $407 million order to deliver 1,240 Joint Light Tactical Vehicles (JLTV) to the Marine Corps, Lithuania and Slovenia, with the deal arriving as the Army has detailed plans to potentially adjust the program to drive down production costs and shift funds away toward modernization.
The Army will hold an industry day on Feb. 24-25 to start the effort to "competitively award the follow-on JLTV production contract," according to a new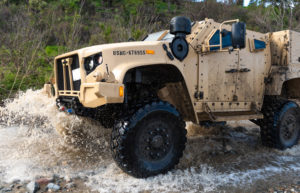 "The Joint Program Office-Joint Light Tactical Vehicle is embarking on the next phase in the acquisition process, production. Committed to fair and open competition, the JLTV program is beginning the first of multiple industry engagements. To open up lines of communication, we will hold engagements early and often to provide transparency to our industry partners," officials wrote in the notice.
JLTV was included among the Army's second round of "night court" reforms, which will include stretching the procurement out by an additional three years and potentially proposing to split the procurement contract when the vehicle program is up for a follow-on deal in FY '22 (Defense Daily, Feb. 11). 
Army Secretary Ryan McCarthy said last Friday the overall acquisition objective for JLTV remains at 49,099 vehicles, while adding the service is currently studying its vehicle portfolio to determine the exact mix of platforms it will need in the near future (Defense Daily, Feb. 14). 
Following the industry day in Michigan, the Army plans to provide the JLTV's current technical data package and a draft Request For Proposals to interested vendors.
The latest full-rate production deal to Oshkosh for JLTV also covers vehicle kits for the Army, in addition to the Marine Corps, Slovenia and Lithuania.
"We work side-by-side with the Joint Program Office to give the military the necessary technological edge to compete with and defeat the most advanced adversaries," George Mansfield, the company's general manager of joint programs, said in a statement. "Without sacrificing mobility or transportability, the JLTV can accommodate over 100 mission package configurations, a true testament to its agility and modularity."