The Navy renewed a $2.3 billion contract for H-60 Seahawk logistics support with Lockheed Martin Rotary Mission Systems [LMT] earlier this month, the Navy said Feb. 15.
The award is a UH-60 Seahawk Performance Based Logistics (PBL) contract for Lockheed Martin's facility in Oswego, N.Y. It represents Naval Supply Systems Command's (NAVSUP) Weapons Systems Support's (WSS) fourth PBL contract with Lockheed Martin since 2004.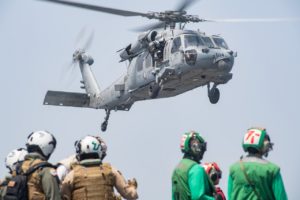 The contract provides supply support for the MH-60R/S Seahawk helicopter platforms, covering nearly 1,000 individual items compromised of Weapon Replaceable Assemblies and Shop Replaceable Assemblies. This includes the main rotor blade, main gearbox, and Airborne Low Frequency Sonar (ALFS).
The PBL generally aims to keep the aircraft performing at optimal levels and improving material availability for fleet readiness.
ALFS was not previously supported under the previous PBLs because it is a new system that allows for rapid search rate, longer detection range over a wider area, and performs in both deep and shallow water.
In a statement, the Navy said the contract "will continue to provide value to the fleet and demonstrate the benefits of long-term contractual arrangements, allowing the government to roll out best practices into follow-on contracts."
This award has a five-year period of performance and one two-year option that would run through January 2027.
The Seahawk PBL is sourced with Fleet Readiness Centers Southeast, East, and Southwest as well as Undersea Warfare Center Division Keyport and Tobyhanna Army Depot.
The Navy said the PBL seeks to increase the reliability and availability of H-60 helicopter components and possibly improve Mean Time Between Depot Demand. Decreasing that time means the parts will be available sooner and reduce the backorders to the fleet.
The Navy noted this renewal will include the pricing adjustment mechanism called demand bands, as in in the previous PBL. Demand bands are used to mitigate risk associated with demand fluctuation in a long-term firm-fixed price contract.
"The demand band structure is utilized to incentivize the contractor to implement product and process improvements to increase time-on-wing and reliability, reduce failures, and improve supply chain processes," Stephen Van Note, NAVSUP WSS contracting officer, said in a statement.
The Navy underscored the PBL is in line with Assistant Secretary of the Navy for Research, Development and Acquisition James Geurts' efforts to be more innovative and agile in the service's contracting approach.