The Army's push to modernize around 31 signature programs will require three to five percent budget growth in the coming years, in addition to continued reforms to shift funds away from lower priorities, a service official said Tuesday.
Lt. Gen. Thomas Horlander, a top Army budget official, told attendees at an Association of the United States Army that, when factoring for inflation, the service's new budget request for fiscal year 2021 represents a one percent downturn in real purchasing power.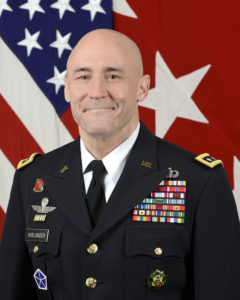 "If you thought some of these decisions that we made here in the last couple of years were tough, I'll tell you there are some really difficult decisions on the horizon. With some of these modernization programs as we start to pilot them and we start to want to field them, that's when we're going to see some really tough decisions to be made," Horlander said.
The Army's $178 billion FY '21 budget request included plans to cut, reduce or delay 80 programs to realign another $13.5 billion toward modernization over the next five years per the latest round of the service's "night court" reform process (Defense Daily, Feb. 10).
The latest round of the Army's "night court" review process including cutting the Advanced Precision Kill Weapon System and Mobile Intermediate Range Missile, stretching the buy of Armored Multi-Purpose Vehicles and Joint Light Tactical Vehicles, reducing the number of Bradley fighting vehicle upgrades and sticking with a plan to truncate the buy of CH-47 Chinook Block II helicopters.
Army Secretary Ryan McCarthy called those number's "tepid" compared to the first round of night court's $33 billion in savings from changes to 186 programs, and pointed to FY '22 as a year the Army will need to make major divestiture decisions (Defense Daily, Feb. 14).
Horlander said the "night court" process will continue, while adding that he doesn't envision seeing an increase in the total savings in subsequent years as divestiture decisions become tougher.
"I don't personally see that deep dive number going up. I think we have identified a lot of the programs already in the first two go-arounds. That's why I tell you I think this budget needs real growth in the coming years," Horlander said. "I don't sugarcoat it. There are going to be some hard decisions in the future. Getting real growth in the topline is absolutely necessary, however, for us to realize the gains that we've already achieved in the last couple of years here in our modernization portfolio."