The Army has restored funding for 12 programs totaling nearly $200 million in its fiscal year 2021 budget request, including production dollars for the Infantry Squad Vehicle (ISV) and prototype funds for the Titan ground station program.
Officials provided a list to reporters on Friday evening of the programs that were restored after initially being included in its "night court" review process to realign funds from low priorities to fund modernization efforts.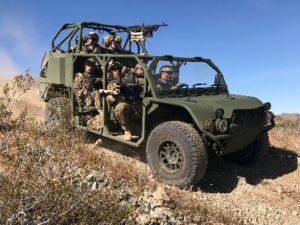 The ISV program, which is currently in a competitive prototyping phase, received $18.9 million in restored funding due to "accelerated production quantities to meet directed requirement."
The Titan ground station effort, which looks to build a scalable and expeditionary intelligence ground station, received $82 million in funding back for its ongoing prototyping program.
The $194.9 million in restored funding also includes $45 million for communications security equipment and $12.7 million for network operation tools, after deeming last year's cut "too deep."
An additional $15.8 million has been restored for a future radar range replacement program.
The Army's first round of night court savings called for adjustments to 186 programs to shift $33 billion in funds over the next five years.
The latest round of the Army's "night court" in its FY '21 budget request includes cutting the Advanced Precision Kill Weapon System and Mobile Intermediate Range Missile, stretching the buy of Armored Multi-Purpose Vehicles, reducing the number of Bradley fighting vehicle upgrades and sticking with a plan to truncate the buy of CH-47 Chinook Block II helicopters (Defense Daily, Feb. 13).