The Congressional Budget Office released a new report Thursday that estimates the Army's acquisitions costs for ground combat vehicles will average $5 billion annually through 2050.
The report accounts for continued upgrades to the Army's current fleet and eventually procuring and maintaining the Bradley-replacing Optionally Manned Fighting Vehicle and Mobile Protected Firepower light tank, while noting that the estimated average could fluctuate based on plans for additional future platforms such as Robotic Combat Vehicles and an Abrams tank replacement.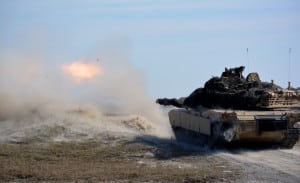 The $5 billion annual estimate, which includes an average of $4.5 billion in procurement and $500 million for research and development, would be $1.7 billion greater than the 2010-2019 figure, when adjusted for inflation. 
CBO projects that more than 40 percent of the projected acquisition costs will go toward Abrams tanks, for an average of $1.9 billion annually, while predicting a significant drop in procurement spending around 2040 as the Army looks to bring on a new tank around that timeframe.
While the Army has not established a path for an Abrams tank replacement program, the report notes the service has considered an unmanned Decisive Lethality Platform as an option which could also take the form of an eventual Robotic Combat Vehicle-Heavy system.
The report notes that embracing a lighter, unmanned option for a future tank could produce budgetary savings, while adding that there's no certainty based on the lack of a definitive replacement program and the future cost of that vehicle. 
Overall, combat vehicle upgrades are expected to account for 80 percent of total acquisition costs through 2050, with the procurement of new vehicles accounting for the remainder, according to CBO's report. 
Regarding the Army's overall plan for rolling out light and medium RCVs, the CBO projects average annual costs will grow beyond $5 billion if the service intends to procure the robots as a separate program rather than select replacements for portions of the current fleet.
"If, instead, development of the RCVs allowed the Army to reduce the number of other vehicles it procured, the service's total procurement costs, though still probably higher than those projected here, would not be higher by the full cost of the RCVs," the CBO writes in its report. 
For the Optional Manned Fighting Vehicle, which is in competition right now, the CBO estimates the future platform to have an operating life of 22 years with plans to begin procuring an upgrade version in the late 2040 timeframe.