The Navy awarded Boeing [BA] a $1.6 billion contract modification on March 31 to produce and deliver another 11 P-8A Poseidon Lot 12 production aircraft.
This award is split into nine aircraft for the U.S. Navy and two for Australia since the Royal Australian Air Force has been a partner on this program since 2009.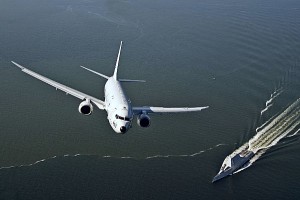 "The P-8A continues to be an invaluable asset and these additional aircraft will help deliver expanded maritime patrol and reconnaissance capabilities to the fleet," Capt. Eric Gardner, program manager for the U.S. Navy's Maritime Patrol and Reconnaissance Program Office, said in a Boeing company statement.
"We continue to hear feedback from deployed Navy squadrons who tell us the P-8A is exceeding expectations. Our focus is on delivering the world's best maritime patrol aircraft. That only happens when teams truly collaborate, listen and focus on customer priorities," Stu Voboril, vice president and program manager for Boeing's P-8A program, added.
Work under this award will primarily occur in Seattle and is expected to be finished by September 2024.
$1.3 billion in fiscal year 2021 Navy aircraft procurement funds and $7.6 million in foreign cooperative agreement funds were obligated at the time of award, with none set to expire at the end of this fiscal year.
Boeing noted in a statement this latest award raises the total number of U.S. P-8As under contract to 128 and Australian aircraft to 14.
The Poseidon succeeds the P-3C Orion to conduct long-range anti-submarine warfare; anti-surface warfare; and intelligence, surveillance and reconnaissance (ISR) missions. It is derived from Boeing's 737 commercial aircraft.
The company boasted the aircraft is modified to include a bomb bay and pylons for weapons, has two weapons stations on each wing, can carry 129 sonobuoys, and has a modern open mission system architecture with a commercial-like support for affordability.
Earlier in March, the State Department approved a potential Foreign Military Sale of five P-8As to Germany for $1.77 billion (Defense Daily, March 12).