The Air Force transported an electric vertical take-off and landing (eVTOL) aircraft from Springfield, Ohio to Austin, Texas on March 23 and 24 inside an HC-130J Combat King II as a proof of concept to integrate eVTOLs into combat capabilities, according to the 355th Wing.
The eVTOL used was LIFT Aircraft's Hexa, which flew its first demonstration flight for the Air Force in August 2020.
"This is the first milestone in developmental operations of eVTOL in rescue and attack, which highlights how the wing continues to actively engage on the front end of these efforts to continue building our readiness for tomorrow's fight," Air Force Maj. Brendan Gallagher, 563rd Rescue Group chief of weapons and tactics, said in a statement. "By doing this, we are furthering the rescue and attack capabilities as we look toward the future because these are the next generation of flying platforms."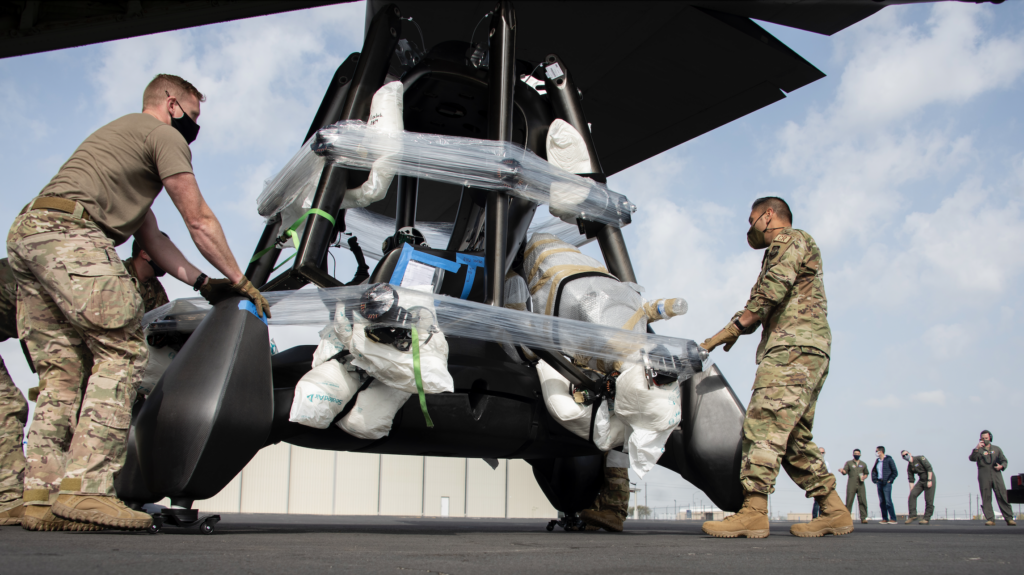 The 355th Wing, 621st Contingency Response Wing and other units are looking to use these aircraft in personnel recovery, initial airfield assessment missions, and resupply missions, according to the Air Force.
"We're exploring a number of ways eVTOL technology could be employed in recovery and resupply scenarios," a Davis-Monthan Air Force Base spokesperson told Defense Daily. "For example, let's say a service member is stranded outside of a secure area. In this situation, an eVTOL vehicle could be sent to their location to pick them up without the need of putting additional forces at risk. An eVTOL vehicle could also be used to deliver critical supplies or equipment, like water, communication equipment, weaponry or ammunition, if personnel recovery isn't needed at the time. Integration into Exercise Bushwhacker, our agile combat employment exercise, this summer will be the first time we're putting concepts like this to the test."
This exercise marks the first time an eVTOL was transported with a military aircraft and proves that the Air Force can transport these vehicles and do it with minimal equipment. Loading the eVTOL onto the C-130 took around 40 minutes, however, they believe this effort can be shortened to 15 minutes. The 355th Wing, 621st Contingency Response Wing, and AFWERX Agility Prime all participated in the exercise.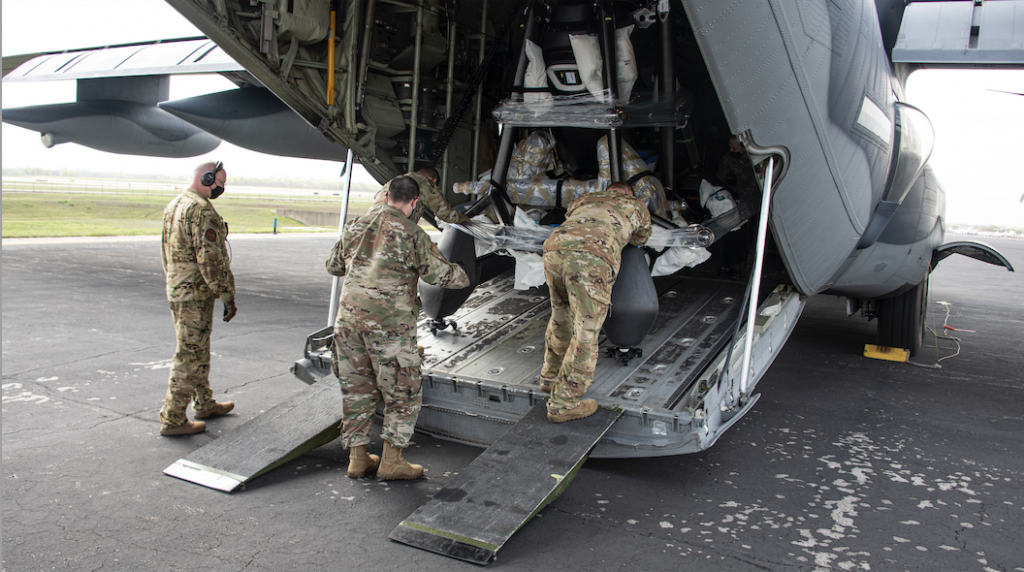 "With it being new, unfamiliar equipment, we had to come with a lot of variants and contingencies," Air Force Tech. Sgt. Joseph Wruck, 571st MSAS air transportation team sergeant, said in a statement. "Alongside the 79th RQS, AFWERX and LIFT, we came up with a simple, safe and expedited way to load the aircraft with minimal specialized equipment by using the ramp system. The load took roughly 40 minutes, but we can get that down to 15 minutes in the future."
Now that they have proven they can transport eVTOLs they will continue testing in training environments. AFWERX eVTOL vehicles will be integrated into more testing exercises during Bushwhacker, the 355th Wing's ongoing series of agile combat exercises, in the summer, according to the 355th Wing.
"This load exercise came on the heels of major flight testing in Springfield, and we have more testing coming up in Austin and the Bushwhacker exercise [the 355th Wing's agile combat employment exercise] in May," James Bieryla, AFWERX Prime division chief, said in a statement.
LIFT Aircraft's Hexa uses 18 electric motors and propellers to fly and only weighs 432 pounds due in part to its carbon-fiber airframe, according to LIFT's website. The Federal Aviation Administration (FAA) has classified Hexa as ultralight, so it does not require a pilot's license to fly the aircraft, which uses a single three-axis joystick to navigate. According to the company, the autopilot computer is triply redundant. It also has water landing capabilities.
AFWERX Agility Prime has been working with industry to develop eVTOL technology for military and commercial use. While LIFT Aircraft's Hexa was used in this demonstration, there are many other companies like Joby Aviation, Elroy Air, and Beta Technologies working with the Air Force on this project. In December 2020 Joby Aviation became the first eVTOL company to gain military airworthiness approval from Agility Prime.
"Our goal within Prime is to find emerging technology with dual capabilities and transition to deploy them rapidly after working with many mission partners to meet the needs of our operators and warfighters," Bieryla said. "This movement with LIFT exemplifies how we aren't content to sit around and wait on anything. We are getting after the Chief of Staff's call to 'Accelerate Change or Lose'."