The Army has placed a $591.6 million Joint Light Tactical Vehicle (JLTV) order with Oshkosh Defense [OSK], covering deliveries to each of the U.S. military branches as well as Brazil, Lithuania, Montenegro and Slovenia.
Oshkosh Defense's latest JLTV deal includes 1,669 vehicles, of which 125 will go to the international partners, and 868 companion trailers.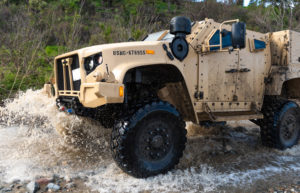 "Our team takes great pride in designing and building a versatile platform that can survive the extreme demands of future combat," George Mansfield, Oshkosh Defense's vice president and general manager of joint programs, said in a statement. "That's what we do and what we've been doing for decades. And Oshkosh's vast tactical wheeled vehicle experience, expertise and knowhow grows with every vehicle that comes off our production line."
John Lazar, the company's vice president and general manager of international programs, said in a statement that foreign interest in the JLTV platforms "continues to grow" with additional demonstrations and live fire events in Europe planned for next year.
The latest delivery order arrives as the Army continues toward its follow-on production contract for the JLTV, which is expected to be worth up to $6.5 billion over 10 years (Defense Daily, Nov. 18).
The follow-on deal is slated to be awarded in September 2022 and is likely to cover approximately 17,000 JLTVs and 10,000 trailers, with first vehicle delivery slated for 18 months later in March 2024.
A draft RFP released in September included the Army's plans to reduce the overall acquisition objective under the follow-on production deal from the original count of 30,000 JLTVs.
Mansfield told Defense Daily in October that Oshkosh Defense is "very confident" in its pursuit to secure the next production contract (Defense Daily, Nov. 1).
The JLTV re-compete effort has drawn at least one other public competitor, with GM Defense [GM] detailing plans to line up partners and ensure it has the full supply chain of parts necessary to go after the production contract (Defense Daily, May 4).