Oshkosh Defense [OSK] has received a $152 million order to deliver more Joint Light Tactical Vehicles (JLTVs) to the Army, Marine Corps, Air Force and Navy, as well as several NATO partners.
The deal arrives as the Army is set to competitively award the JLTV follow-on production deal, likely in 2022, as it looks to further drive down production costs while deviating as little as possible from the current vehicle design.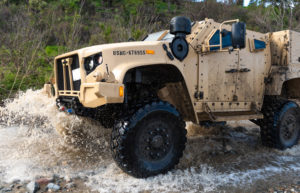 "We've spent over 10 years developing our vehicle, followed by nearly six years of manufacturing the vehicle in both low rate and full rate production," George Mansfield, Oshkosh Defense's vice president and general manager of joint programs, said in a statement. "We've refined the manufacturing process, matured our robust supply chain, and fulfilled the light tactical vehicle capability gap in eight additional countries with our proven platform. No one else can say that. And we have no plans to stop building the Oshkosh JLTV anytime soon."
Oshkosh Defense noted the Army has previously raised its option ceiling for vehicle production from 18,170 vehicles up to potentially 23,163, which service officials have said is due to costs coming in at a lower level than originally projected.
The JLTV re-compete effort has drawn at least one other public competitor, with GM Defense [GM] detailing plans to line up partners and ensure it has the full supply chain of parts necessary to go after the production contract (Defense Daily, May 4).
"Building and manufacturing the JLTV plays right into General Motors' wheelhouse for where we have capability and where we can bring advanced quality and advanced manufacturing to the military market," Rick Kewley, GM Defense's chief engineer, previously told Defense Daily.
The Army's fiscal year 2022 budget request once again includes plans to "stretch" JLTV procurement as a means of shifting funds to higher priority areas, to include reducing funding from $884 million in FY '21 to $575 million in FY '22.
The service's unfunded priorities list, however, does include $120 million to cover 340 more JLTVs, stating that without additional funds plans to field three to five brigades per year over the next two decades will be "in jeopardy" (Defense Daily, June 2).
The international partners receiving JLTVs in this latest order include Lithuania, North Macedonia, Slovenia and Romania, with Oshkosh noting the United Kingdom, Belgium, Montenegro and Brazil also have commitment to procure vehicles.