Army officials on Tuesday detailed the service's request to cancel 41 programs and reduce or delay another 39 to find $13.5 billion in savings over the next five years, including potentially adding another vendor to drive down production of Joint Light Tactical Vehicles (JLTV) and stretching the buy of Armored Multi-Purpose Vehicles.
The service's $178 billion budget request released on Monday included the latest round of "night court" savings, which looks to realign funds toward higher priorities, with plans to shift $2.4 billion in FY '21 funding alone and $9 billion specifically geared toward modernization over the Future Years Defense Program through FY '25.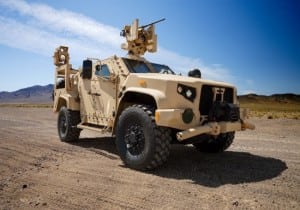 "I believe that we have made the most difficult choices that were presented to us at the time to get to the greatest reform number that we could," Maj. Gen. Paul Chamberlain, the Army's budget director, told reporters. "We all would have loved to have gotten to [Army Secretary Ryan McCarthy's] $10 billion mark. I believe we accomplished that by going to $13.5 billion across the FYDP, but $9 billion was specifically put into the [modernization-leading] Cross-Functional Teams."
One specific reform officials addressed Tuesday is the plan to further stretch out the Army's buy of JLTVs, after including a similar move in the first round of "night court," and potentially proposing to split the procurement contract when the vehicle program is up for a follow-on deal in FY '22.
John Daniels, deputy assistant secretary of the Army for plans, programs, and resources, said with JLTV production set to continue several decades, an additional vendor could be brought in to produce a similar vehicle to the one currently being built by Oshkosh Defense [OSK] may help drive down costs.
"Normally we do that to drive price down in the endstate. If you have competition in the production space then you will eventually get some savings on that," Daniels said.
Chamberlain noted that the Army's acquisition objective for 40,099 JLTVs remains the same despite looking to stretch out the buy again by another three years out to 2042.
"The total number remains the same. It's just going to be over a longer period that it's going to be procured," Chamberlain said.
The FY '21 budget request calls for $894 million in JLTV procurement, down from $972 million in FY '20.
Beyond the JLTV, Oshkosh is also facing potential reductions in the FY '21 budget request to the Family of Medium and Heavy Tactical Vehicle trucks it produces for the Army.
The plan calls to reduce FMTV spending to $95 million in FY '21, down from FY '20's level of $138 million, and the request includes just $7 million for FHTV trucks in FY '21.
"If you look at the fleet densities right now, it's a place where we can take a bit of risk conceptually. We're going to wait a bit to replace trucks because we're satisfying most of the heavy fleets," Daniels said.
Daniels also affirmed that the move per "night court" to also stretch out the buy of BAE Systems' AMPV was due to a need to get the "production facility right-size," with a goal to "slow the production curve to spend a little to get a better vehicle out."
The budget request includes plans to reduce procurements funds for AMPV down to $193 million in FY '21 compared to $445 million in FY '20.
"I think we went in with a bit of enthusiasm and jacked the quantities up, and then we found out there were some additional unforeseen issues in the industrial base to get the quantities right. So it was better to reduce it, and then use some of that money to pay other bills in the Army," Daniels said.
The adjustments to AMPV would delay the production schedule by about six months, according to Daniels.
Chamberlain on Monday also named several additional planned "night court" reforms, including cutting the Advanced Precision Kill Weapon System rockets program, reducing the Bradley upgrade program and sticking with a plan to truncate the buy of CH-47 Chinook Block II helicopters (Defense Daily, Feb. 10).