Army Chief Gen. James McConville said Tuesday he doesn't believe full vehicle electrification will be a requirement for the service's follow-on production competition for the Joint Light Tactical Vehicle (JLTV), adding the service will likely focus on potential hybrid power solutions for platforms of that size.
Sen. Tammy Baldwin (D-Wis.) pressed McConville during a Senate Appropriations Defense Subcommittee hearing on why the service was not pursuing "more aggressive transition to electrification" for JLTV as it looks to award the next production contract as soon as next year.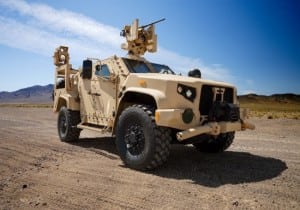 "We're concerned and we have people looking into electrification. But on the larger combat vehicles [it's about] what can you do in the near-term and what can you do in the long-term. And in some cases we're not sure we can get to fully electrification, but can we get to a hybrid [solution] that cuts fuel by 25 percent," McConville said in response to Baldwin. "But as far as going to a full electrification of [JLTV], I don't think we're there yet."
McConville said he sees a benefit in moving to electrification as a means of reducing logistics burden and lessening vehicles' acoustic signatures, citing the Army's ongoing effort to develop an Electric Light Reconnaissance Vehicle concept platform, but said current efforts are likely to stick to smaller platforms.
Oshkosh Defense [OSK] currently manufactures the JLTV in Baldwin's home state, and the lawmaker questioned McConville on the Army's push to stretch out the program's procurement plans in order to shift funds toward higher priority efforts.
"On modernization, I know the Army is divesting from legacy programs to fund other priorities, but the JLTV certainly is not a legacy program or platform. Yet, over the last four years the Army has often characterized the platform as a smaller MRAP or designed for the last war. The requirements that drove the creation of the JLTV do not support this claim and the program was never designed to be the next MRAP for Iraq and Afghanistan," Baldwin said.
McConville responded that JLTV is an "enduring vehicle not a legacy vehicle," and that the Army is committed to continue fielding the platform throughout the force.
The Army's $173 billion FY '22 budget request includes reducing JLTV procurement from $884 million in FY '21 down to $575 million in FY '22, which officials have said will likely lengthen the program's overall production timeline (Defense Daily, June 1).
Baldwin then noted the Army's recently submitted unfunded priorities list to Congress includes $120 million to cover 340 more JLTVs, with the document stating that without additional funds plans to field three to five brigades per year over the next two decades will be "in jeopardy" (Defense Daily, June 2).
"I would just point out that JLTV continues to sort of act as a bill payer for other programs in the [budget request]," Baldwin said. "That's of concern."