A bipartisan bill introduced in the Senate on Tuesday would hold telecommunications firm Ligado Networks responsible for costs to mitigate all potential GPS interference, not just that associated with government systems, as a result of the company's plan to build a new commercial L-Band network for 5G infrastructure.
Sen. Jim Inhofe (R-Okla.), the top Republican on the Senate Armed Services Committee, is leading the measure and builds on his previous opposition to the Federal Communications Commission's (FCC) decision last year to approve Ligado's network plan, citing concerns it will place undue risk on GPS reliability.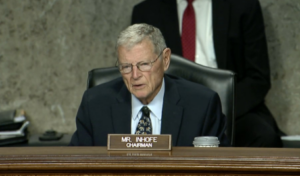 "GPS and satellite communications don't only impact our military—we rely on it for so much of our day to day lives, which is why we need to take steps to protect not just the federal government from the harmful decision, but all state and local governments, private entities and consumers too," Inhofe said in a statement. "When Ligado's effort to repurpose spectrum causes interference in the infrastructure of those systems, as tests have shown it will, consumers and taxpayers shouldn't bear the burden of updating countless systems. That cost should only be borne by the responsible party: Ligado."
The RETAIN GPS and Satellite Communications Act (S.2166), co-sponsored by Sens. Tammy Duckworth (D-Ill.) and Mike Rounds (R-S.D.), would require Ligado to cover the cost of addressing any interference caused to commercial devices, with the lawmakers' statement noting "99 percent of the more than 900 million GPS devices found in the United States are used by the private sector," while the FCC had previously specified mitigating measures to government systems.
Congress has previously pushed to prohibit the use of Pentagon funds to comply with the FCC's order until an assessment is conducted on the risks to GPS signals, citing senior DoD officials' concerns on the potential for interference with military systems.
"As a founding co-chair of the Congressional GPS Caucus, I'm proud to help Senator Inhofe introduce bipartisan legislation that will help make sure Ligado Networks is accountable for covering the costs of addressing any harmful interference that results from deployment of its proposed wireless network," Duckworth said.