The House Armed Services Committee on Wednesday voted to approve a nearly $25 billion topline increase to its version of the next defense policy bill, with more than a dozen Democrats joining the panel's GOP members in supporting the provision.
Rep. Mike Rogers (R-Ala.), the HASC ranking member, said the $23.9 billion in additional spending covers the full range of unfunded priorities submitted to Congress by the combatant commands and each of the services, as well as 200 member priorities not included in the underlying bill.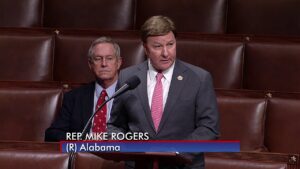 "[The president's budget request] failed to keep pace with inflation. It failed to keep pace with the bipartisan recommendation of three to five percent growth for the Defense Department each year. And I haven't been quiet about my frustration," Rogers said during HASC's National Defense Authorization Act markup on Wednesday. "I'm concerned we risk losing our qualitative and quantitative advantage and I fear what that means for our security in the future."
HASC's original version of the bill included a $715 billion Pentagon topline, essentially matching the president's budget request, which Rep. Adam Smith (D-Wash.), the panel's chairman, said was the "exact right number to get to the right results."
"The reason I oppose the amendment is because I really believe that the single most important thing that the Defense Department needs to do right now is spend its money wisely [and] do a better job of acquisition and procurement, do a better job of anticipating what the threats are now versus what they were 30 years ago. And if we give them another $23.9 billion, it takes the pressure off," Smith said.
Ultimately, 14 Democrats joined all of the panel's Republicans in supporting the 42 to 17 vote for the topline boost, to include Reps. Elaine Luria (D-Va.), Anthony Brown (D-Md.), Mikie Sherrill (D-N.J.), Jim Langevin (D-R.I.), Joe Courtney (D-Conn.), Seth Moulton (D-Mass.), Filemon Vela (D-Texas), Elissa Slotkin (D-Mich.), Jared Golden (D-Maine), Kai Kahele (D-Hawaii), Marc Veasey (D-Texas), Stephanie Murphy (D-Fla.), Steven Horsford (D-Nev.) and Salud Carbajal (D-Calif.).
Luria noted the amendment's nearly $5 billion for additional shipbuilding, to cover an additional DDG and another amphibious ship and reduce the number of planned cruiser retirements, while adding that HASC could have gone even further in increasing the topline.
"With the president's budget I have been saying, ever since it's been released, that it does not do enough. We needed three to five percent real growth and I want to applaud Mr. Rogers and my other colleagues who support this legislation and are finally doing what we need to do to deal with China," Luria said. "This is absolutely essential. It's a step in the right direction. It's not enough, but we have to start somewhere."
Moulton offered a tentative endorsement for the amendment and the additional capabilities included in the measure, while adding HASC must continue to seek out opportunities to address wasteful spending, before voting for the additional $23.9 billion.
"When I actually look at the substance of this amendment, it's somewhat compelling because I think there are a lot of future capabilities embedded in the spending. It's not perfect. There are parochial priorities as well that do not advance our national defense," Moulton said. "To be frank, I'm torn because I think there is a lot of wasteful spending in the underlying bill that should be cut because it's spent on old capabilities we don't need. At the same time, this amendment includes some of the capabilities we do need."
Rep. Ro Khanna (D-Calif.), who has previously pushed for a reduction in defense spending, said he would no longer support voting to advance the NDAA out of committee due to the topline increase.
"The Democrats right now have the presidency. We have the Senate. We have the House of Representatives. And you're telling me our party, when we have both chambers and the presidency, is going to succumb to a Republican addition to the defense budget?" Khanna said. "Let's be very clear. This is an addition beyond what President Biden wants. This is an addition beyond what the Pentagon wants. This is an addition beyond what almost every Democratic voter wants across this country."
The breakdown of additional funding in Rogers' amendment includes $9.8 billion for procurement, $5.2 billion for research and development, $4.2 billion for "Cyber & Innovation," $3.8 billion for military construction and facility improvements, $3 billion for operation and maintenance programs, $1.2 billion for National Guard and Reserve accounts, $1.1 billion for defense health programs, $780 million for missile defense and $490 million for space efforts (Defense Daily, Aug. 30).
The Senate Armed Services Committee in July voted to approve a $25 billion boost to its own version of the NDAA, which also received bipartisan support among the committee (Defense Daily, July 22).
HASC had yet to vote on final passage of its version of the FY '22 NDAA as of Defense Daily's deadline.