The House Armed Services Committee's top Republican has filed an amendment to boost the topline of the panel's version of the next defense policy bill by $25 billion.
The amendment from Rep. Mike Rogers (R-Ala,), the HASC ranking member, would match GOP calls for at least three to five percent annual defense spending growth, and include increasing procurement spending in the bill by $9.8 billion.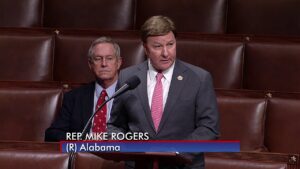 "From China to Russia to Iran to North Korea to the threat of global terrorism – the United States faces no shortage of adversaries who work around the clock seeking ways to supplant or inflict harm on our nation. It is because of the real threats that we face that our military and national security efforts must be fully funded," Rogers wrote in a statement. "The bipartisan National Defense Strategy Commission recommended that we take the step of increasing defense spending at least three percent above the rate of inflation to ensure that our nation is prepared to meet these threats – this amendment will do just that"
HASC is set to mark up its version of the next National Defense Authorization Act on Wednesday, which calls for more than $715 billion in Pentagon spending and essentially matches the White House's budget request (Defense Daily, Aug. 25). 
Progressive lawmakers on Monday reiterated their push against defense spending increases, sending a letter to Rep. Adam Smith (D-Wash.), the HASC chairman, calling on him to resist accepting a topline above the president's requested funding level.
"Surpassing the President's request by such a large and unwarranted amount should not be the starting position of the House Armed Services Committee, particularly when current defense spending levels should already be reduced," Reps. Mark Pocan (D-Wis.) and Barbara Lee (D-Calif.) wrote in the letter signed by 25 total lawmakers. "At a time when America's largest national security threat is a global pandemic, our spending priorities should embrace efforts such as increased COVID vaccination efforts abroad instead of continually increased military spending – especially during a period of military withdrawal from foreign wars."
Smith has said previously he supports the requested $715 billion topline and believes the committee should instead spend its time figuring out how that money is best spent rather than debating the topline figure.
The push for HASC to consider increasing the topline follows the Senate Armed Services Committee's move to approve a $25 billion boost to its own version of the NDAA, which received bipartisan support among the committee (Defense Daily, July 22). 
The breakdown of additional funding in Rogers' amendment includes the $9.8 billion for procurement, $5.2 billion for research and development, $4.2 billion for "Cyber & Innovation," $3.8 billion for military construction and facility improvements, $3 billion for operation and maintenance programs, $1.2 billion for National Guard and Reserve accounts, $1.1 billion for defense health programs, $780 million for missile defense and $490 million for space efforts.
The specific details on Rogers' amendment will likely need to be ironed out during Wednesday's markup with the breakdown of funding currently adding up to $29.5 billion, not $25 billion.
A summary of the amendment notes the provision includes $4.7 billion for shipbuilding, $1.7 billion for additional aircraft and $878 million for combat vehicles. 
The amendment would also prohibit the retirement of three cruisers, covers the services' unfunded priorities list, adds $984 million to implement National Security Commission on Artificial Intelligence recommendations and includes $100 million to establish a Warfighter Innovation Transition Project to help new technologies faster.