The House Armed Services Committee's version of the next defense policy bill calls for a $715 billion Pentagon topline in fiscal year 2022 essentially matching the White House's budget request, according to a copy of the chairman's mark.
HASC is set to hold a full committee markup of its FY '22 National Defense Authorization Act on Sept. 1, where the topline figure is likely to remain a focus of debate as Republican members push for increased defense spending.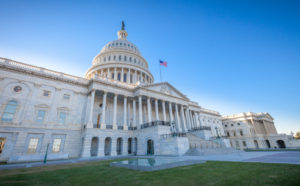 The bill, whose details were first reported by Politico, also raises concerns over the F-35 program's rising sustainment costs, and includes a directive aimed at increasing competition for aircraft components by requiring a briefing on "intermediate steps [that] could be taken in the near term to leverage the whole of industry outside the original equipment manufacturers."
The provision builds on previous comments from Rep. Adam Smith (D-Wash.), the HASC chairman, who has said he's "deeply concerned" over the lack of competition in the F-35 program for areas such as maintenance (Defense Daily, April 13).
For the topline, HASC may face bolstered pressure to include an increase to the Pentagon's budget after the Senate Armed Services Committee voted to approve a $25 billion boost in its version of the NDAA (Defense Daily, July 22).
The White House's requested $715 billion topline figure, which would be a 1.6 percent increase over FY '21 spending levels, has faced persistent scrutiny from Republican lawmakers for falling below calls for three to five percent annual budget growth.
Smith has said previously he supports the requested $715 billion topline and believes the committee should instead spend its time figuring out how that money is best spent rather than debating the topline figure.