The Pentagon remains on track to release direct solicitation requests for its new multi-billion dollar, multi-vendor Joint Warfighter Cloud Capability (JWCC) cloud computing effort around Oct. 15, a department official said Wednesday, with awards slated to be announced next April.
John Sherman, DoD's acting chief information officer, provided the update on the department's latest enterprise cloud effort after canceling the Joint Enterprise Defense Infrastructure (JEDI) in July, noting officials will continue conducting vendor research with eligible companies over the next few weeks.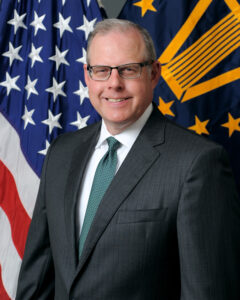 "We're engaging all five of the U.S. hyperscale cloud service providers, or CSPs, learning more about what they can bring to the fight, talking to them about our requirements and having a very robust dialogue at both the classified as well as unclassified levels," Sherman said during remarks at a virtual FedScoop event.
The JEDI cloud program was shuttered in July after the department said it determined that "due to evolving requirements, increased cloud conversancy, and industry advances" the single-vendor program no longer met its needs (Defense Daily, July 6).
Microsoft [MSFT] originally beat out Amazon Web Services [AMZN] for the JEDI cloud contract in October 2019, but the program then stalled following AWS' legal challenge, which included allegations that former President Trump interfered in the award decision.
Sherman at the time announced the department was shifting to a multi-vendor approach with JWCC, to begin with direct awards in 2022 to stand up an initial capability before holding a full and open competition likely around 2025 for an enduring multi-vendor enterprise cloud capability.
"Just as a reminder, what JWCC is going to bring us is a multi-cloud capability at all three security levels, unclassified, secret and top secret, all across the enterprise from CONUS, the continental United States, all the way out to the tactical edge. That's something we don't have right now and it's something that's critical for JADC2," Sherman said Wednesday.
The five firms eligible to receive solicitations in mid-October for JWCC include Microsoft and AWS as well as Google [GOOG], Oracle [ORCL] and IBM [IBM].