The State Department has approved a potential $350 million deal with Australia for services to support future Standard Missile production and a separate $258 million guided munitions sale with South Korea.
The Defense Security Cooperation Agency notified Congress on Wednesday of both foreign military sales.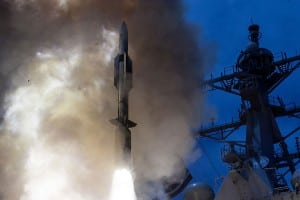 The deal with Australia covers work related to the country's future purchase of the Raytheon [RTX]-built SM-6 and SM-2IIIC missiles, and includes development, engineering, integration and testing services. 
"The proposed sale will support the readiness and future sale of vital anti-air warfare capability that can be deployed from Australia's newest Hunter-Class Destroyers equipped with the latest AEGIS Combat Systems. The purchase of Standard Missile 6 Block I (SM-6) and Standard Missile 2 Block IIIC (SM-2 IIIC) missiles is currently included in Australia's procurement roadmap and will improve their ability to operate alongside U.S. and Allied naval forces against the full spectrum of naval threats," DSCA officials wrote in a statement.
For the deal with South Korea, the sale includes 3,953 Joint Direct Attack Munition (JDAM) Guidance Kits, KMU-556 for GBU-31 bombs, 1,981 JDAM Guidance Kits, KMU-557 for GBU-31, GBU-56, 1,179 JDAM Guidance Kits, KMU-572 for GBU-38 and 1,755 FMU-139 Fuze Systems.
"The proposed sale will improve the Republic of Korea's capability to meet current and future threats by increasing available stores of munitions on the Korean Peninsula in support of Alliance Operations Plans (OPLANs), as well as to fulfill conditions outlined by the Condition-Based Operational Control (OPCON) Transition Plan," DSCA officials wrote in a statement.
Boeing [BA] will serve as the prime contractor for the guided munitions FMS deal with South Korea.