The Senate has advanced toward debating its version of the fiscal year 2022 National Defense Authorization Act after opting to consider a $250 billion China competition package as a standalone item rather than as part of the annual defense policy legislation.
Senate Majority Leader Chuck Schumer (D-N.Y.) and Speaker of the House Nancy Pelosi (D-Calif.) announced on Wednesday evening there was an agreement in place to consider a conferenced version of the U.S. Innovation and Competition Act
(USICA) separately after Republicans had signaled their intent to block a procedural vote on the NDAA for potentially including the China bill.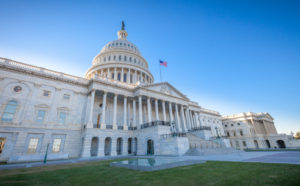 "While there are many areas of agreement on these legislative proposals between the two chambers, there are still a number of important unresolved issues. After Senate Republicans made it clear they would block the inclusion of USICA on the NDAA, we have decided that the best way to get an agreement will be through the conference process. Therefore, the House and Senate will immediately begin a bipartisan process of reconciling the two chambers' legislative proposals so that we can deliver a final piece of legislation to the President's desk as soon as possible," Schumer and Pelosi wrote in a joint statement.
The Senate previously passed USICA in June, which looks to bolster technology competitiveness with China and includes $81 billion for the National Science Foundation to work on areas such as artificial intelligence, quantum computing and robotics over the next few years as well as more than $50 billion to improve domestic semiconductor production (Defense Daily, June 9).
The procedural vote to move toward floor debate on the Senate's NDAA was initially slated for Wednesday morning, before it was scrapped following disagreements over USICA's inclusion (Defense Daily, Nov. 17).
Shortly after Schumer and Pelosi's announcement, the Senate voted 84 to 15 to advance debate on the defense policy bill.
"We should work together and complete this important bill before the Thanksgiving holiday. Last night's vote was overwhelmingly bipartisan so there's no reason we can't come to an agreement very soon to begin debating amendments," Schumer said during floor remarks on Thursday morning.
As of Defense Daily's deadline on Thursday, the Senate was still working through which amendments to the NDAA will receive floor consideration with the potential that the bill could receive a final vote following the Thanksgiving break.
Schumer did signal that one potential amendment would look at repealing the 2002 Iraq AUMF, noting the bipartisan measure was previously reported out of the Senate Foreign Relations Committee earlier this year.
"I said months ago the Senate should hold a vote on it. The NDAA is the logical place to do so. The Iraq War has been over for over a decade and an authorization passed in 2002 is no longer necessary for keeping Americans safe in 2021," Schumer said.
Senate Minority Leader Mitch McConnell (R-Ky.) signaled his opposition to a repeal of the 2002 Iraq AUMF during his own floor remarks on Thursday morning.
"In the wake of these growing threats, Democrats want to use the NDAA, a bill that should strengthen our national defense, as an occasion to weaken the authorities that support our military's presence and operational flexibility by repealing the 2002 AUMF. I expect a robust debate about that," McConnell said.
The House has already passed its $768 billion FY '22 NDAA in late September with a bipartisan 316 to 113 vote, but the two chambers must still meet in conference to iron out differences between the two versions of the bill (Defense Daily, Sept. 24).