The House Armed Services Committee (HASC) on Wednesday voted down a GOP proposal that would require the Pentagon to turn over documents related to its investigation into the canceled $10 billion Joint Enterprise Defense Infrastructure (JEDI) cloud computing program.
Rep. Jim Banks (R-Ind.) introduced the directive as an amendment to HASC's version of the next National Defense Authorization Act, with panel Democrats arguing the measure would slow down the Pentagon's effort to move forward on its new multi-vendor cloud effort.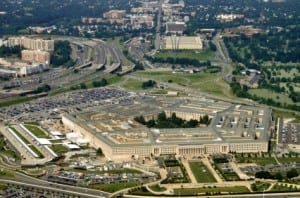 "We are all pleased that the department is finally moving forward in a productive manner to obtain enterprise cloud capabilities in a modern and flexible way. JEDI, however, was a failure, and we shouldn't let this moment pass without trying to understand what happened and why," Banks, the ranking member on the Cyber, Innovative Technologies, and Information Systems Subcommittee, said when introducing his amendment.
The measure was ultimately voted down by a 28-30 vote.
JEDI cloud was shuttered in July after the department said it determined that "due to evolving requirements, increased cloud conversancy, and industry advances" the single-vendor program no longer met its needs, and instead would move ahead with a new multi-vendor Joint Warfighter Cloud Capability (JWCC) program (Defense Daily, July 6).
Microsoft [MSFT] originally beat out Amazon Web Services [AMZN] for the JEDI cloud contract in October 2019, but the program then stalled following AWS' legal challenge, which included allegations that former President Trump interfered in the award decision.
The DoD Inspector General's office opened an investigation into the program's challenges, with Banks pushing for HASC to receive documents that could shed light on allegations of corruption in regards to both JEDI and the subsequent IG investigation.
"There have been allegations of corruption since JEDI's inception and recently even the DoD Inspector General's report on JEDI has come under criticism. Emails cited in the IG's report later obtained in full from from FOIA litigation have shown that the emails were edited and manipulated, perhaps to draw a different conclusion than should be drawn," Banks said. "Our oversight responsibilities compel us to seek out these underlying source documents to review them ourselves and draw our own conclusions."
Rep. Adam Smith (D-Wash.), the HASC chair, acknowledged there were "a wide range of allegations against a wide range of actors" associated with JEDI but that the amendment would be "throwing gasoline on the fire again" and lead to slowing down the department's progress on getting after the new JWCC cloud initiative.
"The one thing we do not need in the area of cloud computing is to further litigate past issues with the risk of further slowing down any progress in actually moving forward on the contract," Smith said. "There's no mystery to be revealed here. Politics came in because it was a $10 billion contract and everybody wanted that money."
John Sherman, DoD's acting chief information officer, said last week the department remains on track to release direct solicitation requests for JWCC around Oct. 15, with awards slated to be announced next April (Defense Daily, Aug. 25).
The House Armed Services held its full committee markup of its version of the NDAA on Wednesday, but had yet to vote on final passage as of Defense Daily's deadline.