Senate Republicans on Tuesday urged Democratic leadership to bring the chamber's fiscal year 2022 defense authorization to the floor, citing it as "one of the latest Senate considerations of the National Defense Authorization Act in history."
Sen. Jim Inhofe (R-Okla.), the top Republican member on the Senate Armed Services Committee (SASC), told reporters he has not received a specific answer from Senate Majority Leader Chuck Schumer (D-N.Y.) on why the bill has been delayed in receiving floor consideration.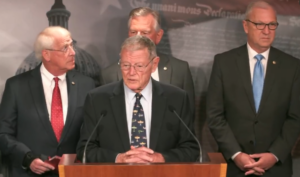 "The major message we need to send is to Sen. Schumer. I have no idea why we don't have floor time now," Inhofe said during a press conference.
SASC advanced its FY '22 NDAA, which included a $25 billion topline increase, in July, and then filed the full bill in late September two months after committee markup (Defense Daily, Sept. 22).
"Right now, we are on track to have one of the latest Senate considerations of the National Defense Authorization Act in history. The bill was marked up by the Senate Armed Services Committee in July. It's been ready for action for some very long time, and yet here we are voting on low-level nominees and arguing about this tax and spending spree that the Democrats seem obsessed with passing," Sen. John Thune (R-S.D.), the minority whip, said Tuesday.
Inhofe said Sen. Jack Reed (D-R.I.), the SASC chairman, discusses the status of the NDAA with Schumer on a daily basis but has also yet to receive a confirmation of when the bill will be brought to the floor.
"He told me that on a daily basis he approaches [Schumer] and he has not been successful in getting it done. [Reed's] done everything that he can do and he did not come back with a reason that this postponement has taken place," Inhofe said.
The House has already passed its $768 billion FY '22 NDAA in late September with a bipartisan 316 to 113 vote, but the two chambers must still meet in conference to iron out differences between the two versions of the bill (Defense Daily, Sept. 24).
Inhofe said he wants to see the bill brought to floor for full debate rather than having the "Big 4" leaders of the defense committees meet to hash out a final bill on their own, as has been done in previous years where the process has been delayed.
"All that does is shut out a lot of people and we want to open it up. We want to give everyone a chance to participate in this, and the best way to do that is to get it on the floor. And that's why we're here today," Inhofe said.