The Navy awarded Northrop Grumman [NOC] a $333 million modification on June 25 to exercise options to build three more MQ-4C Triton unmanned aircraft for Australia.
The award covers production and delivery of the low-rate initial production (LRIP) aircraft as well as two main operating bases and one forward operating base in an integrated functional capability-four and multiple-intelligence configuration, with associated export compliance support for the government of Australia.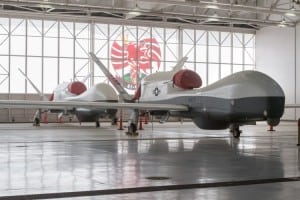 Australia first announced it was ordering an initial six Tritons in 2018 to complement its new P-8A Poseidon aircraft. The country is paying up to $1 billion for the aircraft, new facilities, and ground control systems. Australia entered into a cooperative program with the U.S. for the aircraft. In the initial announcement the government said it was also purchasing the first aircraft (Defense Daily, June 26, 2018).
Australia said it plans for the first Triton to be introduced to Australian service in 2023 and all six to be delivered by 2025. In March 2019 Australia announced it was purchasing the second aircraft.
The Tritons will contribute to intelligence, surveillance, and reconnaissance (ISR) missions; anti-submarine warfare and maritime strike capabilities; and search and rescue capabilities.
Work on the three new Tritons is expected to be finished by April 2025. Foreign cooperative project funds of $28 million were obligated at the time of award, with none set to expire at the end of this fiscal year.
Relatedly, Northrop Grumman announced Australia decided to provide funding for three more of the planned six Tritons.
Australia also committed to funding the main operating base at Royal Australian Air Force (RAAF) Edinburgh in South Australia and a forward operating base at RAAF Tindal in the Northern Territory.
The company explained the main operating base allows for a permanent control station vs. the forward operating base allows for deployment of the Triton system "to support Australian national security requirements."