The Army will release a final request for proposals this month for the production phase of its Infantry Squad Vehicle (ISV) program to find a new lightweight air-droppable platform, with plans to award a contract this June, a program official told Defense Daily.
The single-vendor production contract for over 1,000 vehicles will be awarded to either
General Motors [GM] Defense, Oshkosh [OSK], or SAIC [SAIC], the three participants in the ISV prototype effort.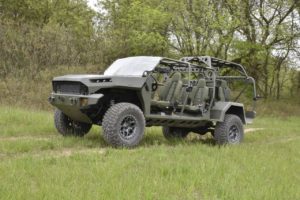 Steven Herrick, PEO Combat Support & Combat Service Support's product lead for Ground Mobility Vehicle, said the Army completed a second soldier touchpoint event with the three offerings in January at Fort Bragg in North Carolina, with the 82nd and 101st Airborne Divisions.
"The second soldier touchpoint allowed vendors to revisit issues identified in [the first soldier touchpoint] to determine if their respective solutions are effective. Soldier Touchpoint 2 was part of an iterative process, where through physical contact with the assets, vehicle operational use, and soldier feedback, the program office is provided necessary data and information to pursue the acquisition of the ISV for the Army as a program of record," Herrick said.
The eventual production contract will cover three years plus five option years and include an acquisition objective for 1,070 ISVs, according to a new pre-solicitation notice. 
Last August, the Army announced the three offerings it had selected to move onto prototyping: a GM vehicle based off the ZR2 variants of the company's Chevrolet Colorado midsize truck, an Oshkosh offering in partnership with Flyer Defense, and SAIC working with Polaris [PII] on a variant of its DAGOR vehicle (Defense Daily, Aug. 27). 
The test offerings then went through development testing at Aberdeen Test Center in Maryland from November through January, before moving to the second soldier touchpoint.