The USS Gerald R. Ford (CVN-78) aircraft carrier finished and completed the second and final round of aircraft testing on Jan. 31, the Navy said Wednesday.
The Ford spent 16 days at sea conducting Aircraft Compatibility Testing (ACT) where the crew launched and recovered 211 aircraft, including five different air frames. ACT began on Jan. 16.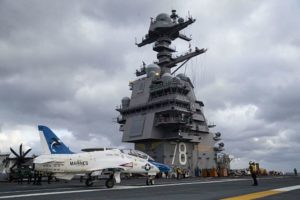 ACT was the first of 11 underway periods from its Norfolk, Va., homeport scheduled during CVN-78's Post Delivery Test and Trial period (Defense Daily, Jan. 17).
ACT had the first Ford underway catapult launches and arrested landings for the T-45 Goshawk, EA-18G Growler, E-2D Advanced Hawkeye, and C-2A Greyhound. The carrier also tested the F/A-18F Super Hornets from Air Test and Evaluation Squadron 23 (VX-23), which previously conducted initial compatibility tests on Ford in 2017.
The Navy underscored "this second and final round of testing validated the ship's capability to launch and to recover aircraft with ordnance loadout and fuel states mirroring deployed requirements and operating tempos," via the Electromagnetic Aircraft Launch System (EMALS) and Advanced Arresting Gear (AAG). EMALS and AAG are collectively called the Aircraft Launch and Recovery Equipment (ALRE).
The service said since it has finished T-45 testing on the Ford the carrier will now be able to provide carrier qualification support to Navy Training Command and student naval aviators in the jet/E-2/C-2 pipeline.
"This success is the result of the hard work and collaboration of the men and women in the entire ALRE team, including our government personnel and industry partner General Atomics, and fleet. I am extremely proud of what we have accomplished together, and am fully confident in our ALRE systems moving forward, especially with the backing of our highly dedicated and professional ALRE team," Capt. Kenneth Sterbenz, program manager of the ALRE office (PMA-251), said in a statement.
The Navy noted the Ford now has a total 958 traps thus far and will probably go over 1,000 launches and arrestments in the upcoming Flight Deck Certification phase, scheduled for March. At that phase, the ship's crew and Carrier Air Wing Eight will take over all flight operations.