The Defense Department's top weapons tester said the Navy's MQ-8C Fire Scout is "not operationally effective, not operationally suitable, and not cyber survivable" and the service established a "Tiger Team" to work on deficiencies.
In its annual report on major weapons systems, the Director, Operational Test and Evaluation (DOT&E) said while the MQ-8C Endurance Baseline variant has demonstrated an endurance improvement over the MQ-8B model it criticized the aircraft as not operationally effective.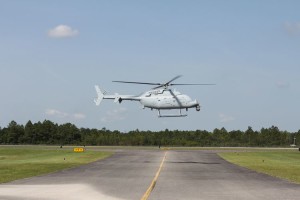 The M8-8C is a helicopter-based unmanned system designed to support intelligence, surveillance, and reconnaissance (ISR); surface warfare; and mine countermeasures payloads for Littoral Combat Ships and other properly equipped aviation-capable ships. The Navy has procured 38 vehicles with no additional procurement planned.
The MQ-8C reached Initial Operational Capability (IOC) in June 2019 (Defense Daily, July 8, 2019).
IOC integrated the Endurance Baseline Increment, consisting of the AN/AAQ-22D BRITE Star II multi-sensor imaging system with electro-optical/infrared (EO/IR) cameras and laser range finding and target designation, Automated Identification System, tactical ISR remote broadcast omnidirectional datalink, and ultrahigh frequency (UHF)/very high frequency voice communications package.
DOT&E said the primary degraders that led to its negative assessment was the overall air vehicle reliability, image quality and system performance of the BRITE Star II system, and the poor reliability and inconsistency of the Tactical Common Data Link (TCDL).
The TCDL is the conduit for payload video and control.
The report said "excessive operator workload coupled with an immature supply support system also contributed to the assessment of not operationally suitable."
DOT&E also disclosed the Fire Scout program office established a "Tiger Team with fleet representation to increase readiness and reliability of the MQ-8 system of systems."
The team will focus on addressing the three main deficiencies: TCDL, BRITE Star, and cyber survivability.
DOT&E recommended the Navy correct all TCDL and BRITE Star II deficiencies and Operational Test and Evaluation Force (OPTEVFOR) should verify the correction of operational deficiencies during Follow-on Operational Test and Evaluation.
This assessment came a year and a half after the DoD Inspector General reported the Navy improperly declared IOC for three LCS mine countermeasures mission packages, including the Coastal Battlefield Reconnaissance and Analysis (COBRA) Block I systems used on the Fire Scout MQ-8B model (Defense Daily, July 30, 2018)
In that report the IG found the Navy declared IOC before demonstrating the systems were effective and suitable for their intended operational use.
The Fire Scout is built by Northrop Grumman [NOC] using a Bell [TXT] 407 airframe and built at the Bell Mirabel, Quebec plant. Final assembly and kitting then occurs in the U.S.
The MQ-8C model improves over the MQ-8B by being larger and having a longer endurance, able to operate for up to 12 hours on station, depending on the payload.