The House Armed Services Tactical Air and Land Forces Subcommittee is calling on the Army to clarify its acquisition strategy to procure sensors for its Future Vertical Lift (FVL) fleet and plans to adopt augmented reality headset technology across its air and ground platforms.
The subcommittee's markup of the fiscal year 2021 defense authorization bill, unanimously approved on Tuesday, directs the Army to provide information on both areas by December.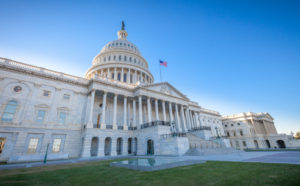 "The committee notes that the Army has yet to define the acquisition strategy for FVL mission equipment payloads and sensors, despite an accelerated platform development schedule," lawmakers wrote in the markup. "The committee is concerned that without a well-defined acquisition strategy and risk reduction effort for mission equipment payloads and sensors, industry will be unable to make the investments necessary to deliver advanced capabilities on time for FVL programs."
A report from the Secretary of the Army would be expected to include details on required funding levels and development timelines to go after advanced sensors for the FVL fleet, to include the Future Attack Reconnaissance Aircraft (FARA) and the Future Long Range Assault Aircraft. 
In April, the Army released a Request for Information to begin soliciting industry input on potential FARA mission systems (Defense Daily, April 14). 
For the Army's Integrated Visual Augmentation System, the subcommittee is calling for a briefing to understand how the service plans to scale the augmented reality headset capability across its major platforms.
"However, due to the large quantity of hardware, software, and funds allocated for the program, as well as an aggressive development schedule, the committee expects the Army to utilize this technology in developing any new head-up displays for air and ground vehicles," lawmakers wrote.
Army officials told reporters in April the next soldier evaluation for IVAS was delayed from this summer to October due to the pandemic, while the service expects to meet its goal of a first unit equipped date in late FY '21 (Defense Daily, April 22).