The House Armed Services Seapower and Projection Forces subcommittee's mark of the FY 2021 defense authorization bill recommends restricting the Secretary of Defense's budget until long-delayed Navy reports are submitted to Congress.
One provision in the mark would restrict 75 percent of the operation and maintenance funds for the Secretary of Defense until the long-delayed 30-year shipbuilding plan for the Navy is delivered to Congress.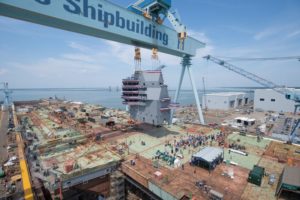 The Defense Department has still not submitted the shipbuilding plan or the Integrated Naval Force Structure Assessment (INFSA), months after they were expected. In February, Secretary of Defense Mark Esper said he was waiting to review the 30-year plan being submitted by the Navy,
Separately, former Acting Secretary of the Navy Thomas Modly explained once INFSA was completed, Esper wanted to see how it and the 30-year plan would impact each other before submitting either (Defense Daily, Feb. 28).
Later In March, Modly confirmed Deputy Secretary of Defense David Norquist is leading an effort to look at the overall military force structure as part of the review on INFSA (Defense Daily, March 26).
Committee staffers told reporters this provision aims to modify previous pressure put on department leadership to submit reports. In the FY 2020 defense authorization, the subcommittee fenced off 25 percent of the Secretary of the Navy travel budget until the 30-year shipbuilding plan was delivered on time.
Now the subcommittee recommends fencing off a much larger portion of the Office of the Secretary of Defense's (OSD) travel budget until the 30-year shipbuilding plan is submitted, since OSD is now the one delaying submission.
During the HASC Seapower Subcommittee Markup Tuesday, Chairman Joe Courtney (D-Conn.) explained when the FY '21 budget request was submitted, "the statutory requirement for the Department of Defense to submit a 30-year shipbuilding plan was and continues to be brazenly ignored."
Courtney argued DoD "has put us in an untenable position of authorizing their shipbuilding request without any meaningful strategic or analytical context. The law is clear here: since 2002, a 30-yr shipbuilding plan is mandated to accompany the budget."
"The secretary has stated his opinion that a 30-year shipbuilding plan is of , 'questionable value', but the fact remains that he is required to submit it….This unprecedented impasse is unacceptable and therefore our mark restricts some funding for the Office of the Secretary of Defense," he continued.
The subcommittee mark also restricts any ship retirements until the equally delayed INFSA is submitted to Congress.
It specifically prevents any Navy ships from being retired, prepared to retire, or placed in storage until 30 days after the Secretary of Defense submits the 2020 INFSA to the defense committees.