The U.S. and Poland are finalizing a new defense agreement that would include rotating an Air Force intelligence squadron and establishing a location for an Army armored brigade combat (ABCT) team in the European nation.
The announcement arrives as Polish President Andrzej Duda is scheduled to visit the White House on Wednesday.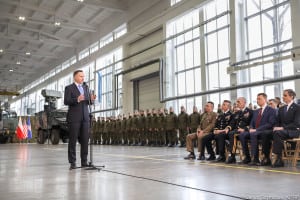 "We are looking closely with our Polish counterparts on a Defense Cooperation Agreement to realize the vision put forward by both our presidents.  We are now focused on the final details for the legal agreements, which are similar to those that we've completed with other allies around the world," senior administration officials told reporters on Tuesday.
The agreement includes establishing an aerial port for an Air Force MQ-9 Intelligence Surveillance and Reconnaissance squadron in Poland and providing infrastructure to support the ABCT as well as a combat aviation brigade and a combat support sustainment battalion.
Details of the agreement follow reports the administration is considering potentially deploying thousands of troops from Germany to Poland, while senior administration officials declined to comment on any troop movement decisions. 
Officials did note Poland currently has 126 active foreign military sales with the U.S., valued at $15.6 billion. 
Recent FMS cases between the two countries include a $4.6 billion deal for F-35s, another $4.6 million for Patriot air and missile defense system and $417 million for HIMARS rocket systems.