The Pentagon's top two technology officials are stepping down from their positions effective July 10, a defense official confirmed to Defense Daily on Tuesday.
Mike Griffin, the Pentagon's under secretary of defense for research and engineering, is resigning along with Lisa Porter, his deputy under secretary.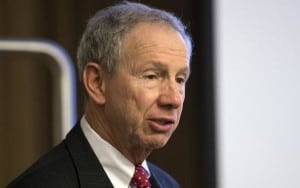 Since taking on the under secretary role in 2018, Griffin has led the department's hypersonic weapons effort and has overseen major directed energy and space-based programs. 
Griffin was previously the NASA administrator from 2005 to 2009, and Porter served as the first director of the Intelligence Advanced Research Projects Activity (IARPA).
Following Griffin and Porter's exit, the top officials in the Pentagon's Research & Engineering office are JihFen Lei, acting director for research and technology, Mark Lewis, director for modernization, and Jim Faist, director for advanced capabilities.
Inside Defense first reported the news of Griffin's and Porter's resignation.