The Pentagon's top technology official has finalized a list of her top 14 priority areas for technology development, which will help drive the department's forthcoming National Defense Science and Technology (S&T) strategy.
Heidi Shyu, the under secretary of defense for research and engineering, released a strategic vision memo on Thursday setting the stage for the new S&T strategy, which she said will prioritize areas for investment to enable rapid prototyping, continuous experimentation campaigns and delivery of new capabilities.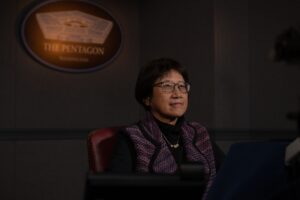 "This technology strategy will chart a course for the United States' military to strengthen its technological superiority amidst a global race for technological advantage," Shyu wrote in the memo. "In an ever shifting and fast-moving global environment, technological advantage is not stagnant and the department cannot rely on today's technology to ensure military technological dominance tomorrow."
Shyu has grown the list of the department's technology development priorities from 11 up to 14, splitting them across three broader categories.
"By focusing efforts and investments into these 14 critical technology areas, the department will accelerate transitioning key capabilities to the military services and combatant commands," Shyu wrote.
The first group is called "seed areas of emerging opportunity," and includes biotechnology, which Shyu says could be applied to reducing logistics and sustainment costs and increasing energy efficiency, and advanced materials that are stronger, lighter, more efficient and can handle extreme temperatures.
This group also includes quantum science research for quantum sensors, computing and networks and telecommunications technologies beyond 5G, or "FutureG."
"From more accurate information to faster decision making, to significantly stronger encryption capabilities, quantum science has the promise to deliver cutting-edge technology," Shyu wrote. "The department will invest in FutureG technology development to lay the groundwork for continued United States leadership in information technology, which is vital for maintaining our economic and national security."
The second group encompasses the majority of technologies on the list, and is described as areas "where there is existing vibrant commercial sector activity."
This category includes trusted artificial intelligence and autonomy, integrated network systems-of-systems and advanced computing software, to include supercomputing, cloud computing, data storage, computing architectures, and data processing.
Similar to her predecessors, Shyu has highlighted microelectronics as a critical technology area within this group and the need to ensure domestic capacity for development and manufacturing.
"Diminishing microelectronics manufacturing in the United States and supply chain concerns have highlighted national economic and security risks. Working closely with industry, academia, and across the government, the department is addressing the need for secure microelectronics sources and will leverage state-of-the-art commercial development and production for defense microelectronic solutions," Shyu wrote.
Space technology is also included in this grouping, to include space flight and space communication development, with a call for the department to "shift away from exquisite satellites to a more robust and proliferated architecture" and going after novel space technologies "to enable resilient cross-domain operations."
"The space strategy must incorporate technologies that enhance DoD's adaptive and reconfigurable capabilities in space situational awareness, space control, communication path diversity, on-orbit processing, and autonomy," Shyu wrote.
Shyu has also included in this group renewable energy generation and storage, such as solar wind, bio-based and geothermal technologies, advanced energy storage, electronic engines, and power grid integration, and "human-machine interfaces" covering technologies related to human-machine teaming and augmented and virtual reality.
The final grouping is "defense-specific areas" and includes directed energy and hypersonics, priorities that have been drivers of major research and development initiatives across the service in recent years.
"Directed energy systems will allow the department to counter a wide variety of current and emerging threats with rapid responses and engagement at the speed of light. High-power lasers and high-power microwave technologies both offer new ways to counter diverse sets of threats," Shyu wrote. "Hypersonics dramatically shorten the timeline to strike a target and increase unpredictability. While strategic competitors are pursuing and rapidly fielding advanced hypersonic missiles, the DoD will develop leap-ahead and cost-effective technologies for our air, land, and sea operational forces."
This group also includes integrated sensing and cyber and calls for developing "wideband sensors to operate at the intersection of cyber space, electronic warfare, radar, and communications."