The Pentagon is likely to request a figure below a billion dollars in its fiscal year 2023 budget for its new rapid experimentation campaign, according to the department's lead technology official, who noted the eventual FY '22 spending bill is also set to include some funds to get the program started.
Heidi Shyu, the under secretary of defense for research and engineering, also told reporters last week she is beginning to engage with industry on opening up the program to their technology concepts with plans to eventually solicit white papers.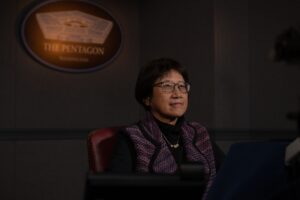 "I have already indicated in all of my industry engagements that we will be receptive in listening to them. I've engaged with the CEOs of [Federally funded research and development centers] and small businesses and the traditional primes. They are pretty well aware that we are looking for their feedback as well and looking for their white papers," Shyu said.
The new prototyping campaign is part of the Pentagon's new Rapid Defense Experimentation Reserve, or RDER, and will look to test emerging technologies that can address joint warfighting capability gaps.
The first joint experimentation campaign, which will help identify promising prototyping initiatives and aim to bridge the "technology valley of death," is set to start in FY '23 with 32 projects (Defense Daily, Nov. 8).
"The 32 projects, unfortunately, fall from the unclassified all the way through to secret to top secret to special access. By and large, I can't talk about it too much," Shyu told reporters. "What we will end up doing is taking some classified capability gaps and sanitizing them to the unclassified [level]. And then we'll release the unclassified capability gaps, that way I can reach a much wider audience."
Shyu noted Congress remains receptive to including RDER funds in the final FY '22 spending bill to kickstart the effort, with a potential increase above what the department originally asked for, while noting she has told both lawmakers and senior Pentagon officials it won't take a large amount of money to get the program moving forward.
"When I put the dollar amount together and briefed it to [Deputy Defense Secretary Kathleen Hicks], [DoD's Cost Assessment and Program Evaluation office] and the comptroller, they were amazed at the dollar amount. I would say for a small chunk of money, we could move the needle quite a bit," Shyu said. "[It's] less than our least significant digit, which is a billion."
DoD's FY '23 budget proposal will also include a request to fund multiple tranches of Phase 2 Small Business Innovation Research (SBIR) grants at the same time, to allow for greater flexibility if innovative companies need additional dollars to complete prototyping work
"A lot of times you're provided, let's say, $1.5 million to build a prototype. Well, what if that wasn't enough money. So that means you're halfway through a prototype but you need additional money to finish it. So I want to give an opportunity to provide additional funding within the SBIR program to help them complete the prototype," Shyu said.
The RDER initiative and SBIR proposal are both aimed at addressing the challenge of getting innovative concepts from prototyping into production, Shyu noted, adding that she's working on a specific strategy that would address the larger "valley of death" issue.
"I have been engaging with small companies because they're the guys that are suffering from the 'valley of death.' I've visited small companies and I've held roundtables with small companies to talk about the biggest impediments they see in terms of working with the DoD," Shyu said. "It [will be a] strategy on how to pave over this 'valley of death,' or at least to build a bridge."
More specifically, Shyu said she's focused on getting the Pentagon "a lot closer tied" to venture capital firms who can help support small businesses realize their innovative prototypes, to include holding roundtables with nearly a dozen VC firms to understand their current challenges in working with the department.
"They indicated the pace they are on, the decisions they have to make, is far more rapid than the DoD processes. However, they are interested at heart in terms of helping the DoD out. So if I could highlight successful Phase 2 [SBIR] companies that require a chunk of money before they can get a production contract or another R&D contract, they will be interested in helping out to provide venture funding. So that's exactly what's needed," Shyu said.