The U.S. helicopter destroyed following a Special Operations Forces raid to kill the leader of the Islamic State terrorist group on Wednesday night was experiencing a "drivetrain issue" during the infiltration phase of the operation, according to the Pentagon.
John Kirby, the Pentagon press secretary, told reporters the mechanical issue "rendered it not usable for future flight in the operation" and Marine Gen. Frank McKenzie, commander of U.S. Central Command, ordered the helicopter to be purposefully detonated and destroyed.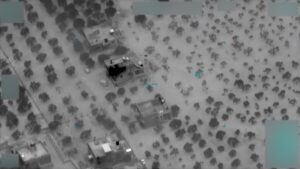 "The helicopter was able to depart the target location and land at another location further away offsite. But, ultimately, it was determined that further use of the helicopter was not practical and, in fact, could be dangerous. And so, Gen. McKenzie made the decision that the helicopter should be abandoned and detonated so it could be destroyed in place," Kirby said. "It didn't catch fire. It was a drivetrain issue. It didn't crash. It landed safely at an alternative location. They looked at it to determine whether it could be fixed and continue to be used in the operation and it was determined that was not possible."
The raid mission, which took place in northwest Syria, resulted in the death of Abu Ibrahim al-Hashimi al-Qurayshi, the leader of ISIS.
Kirby said he could not disclose the total number of helicopters that were involved in the raid operation.
"We had exactly the force levels and exactly the resources we needed to conduct this operation and I'll leave it at that," Kirby told reporters.
Reports of eyewitness accounts on the ground following the raid identified the helicopter as an MH-60M, the Special Operations version of the Sikorsky [LMT]-built Black Hawk.
A Black Hawk helicopter that experienced a weather-related mechanical issue during the Osama bin Laden raid in 2011 was also destroyed.