President-elect Joe Biden announced Tuesday he will nominate Ret. Army Gen. Lloyd Austin III, a former commander of U.S. Central Command, as his secretary of defense.
Austin, who would be the first Black secretary of defense if confirmed by the Senate, is likely to face a tough confirmation process over concerns for having a recently retired general leading the Pentagon, which will require a waiver for him to serve in the position.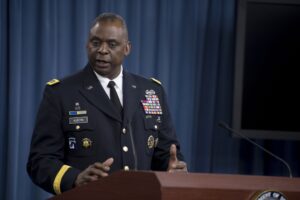 "In his more than 40 years in the United States Army, Austin met every challenge with extraordinary skill and profound personal decency. He is a true and tested soldier and leader. I've spent countless hours with him, in the field and in the White House Situation Room. I've sought his advice, seen his command, and admired his calm and his character. He is the definition of a patriot," Biden wrote in a piece for The Atlantic officially announcing his decision.
Initially, Austin was seen as a long-shot for the pick but had gained traction in recent weeks as he received the backing of several members of the Congressional Black Caucus (CBC) urging Biden to have greater African-American representation among his cabinet picks.
Austin, who retired from the military in March 2016, oversaw operations against ISIS during his time leading U.S. CENTCOM, was the vice chief of staff of the Army from 2012 to 2013 and led the effort to withdraw combat forces in Afghanistan in 2011. 
During a 2015 hearing, however, Austin faced a tough questioning from the Senate Armed Services Committee over a mission he led to train and equip anti-ISIS forces in Syria that cost hundreds of millions but resulted in only training a small group of forces. 
Since retiring from the military, Austin has joined the board of Raytheon [RTN], which may receive scrutiny from progressive lawmakers who have pushed to have fewer senior Pentagon leaders with ties to the defense industry .
Michèle Flournoy, a former under secretary of defense for policy during the Obama administration, had been considered the likely nominee, with the chair of the House Armed Services Committee calling her "hands down the best qualified person for the job" as recently as Monday (Defense Daily, Dec. 7). 
Rep. Anthony Brown (D-Md.), a member of HASC and the CBC, who initially backed Flournoy for defense secretary offered his support for the Austin pick calling him the "right choice" for the job. 
"Historic and significant – if he is Joe Biden's pick for [Secretary of Defense] Gen. Lloyd Austin has the character and competence necessary to lead the Department of Defense," Brown wrote in a social media post. "Lloyd Austin is top flight and he's the right choice to lead our civilian & military personnel at the Pentagon."
Austin would be the second defense secretary in the last four years to require a waiver, following former fellow CENTCOM Commander Jim Mattis' nomination, with SASC Ranking Member Jack Reed (D-R.I.) previously saying such an exception should only be made "once in a generation." 
The waiver would require a majority approval in both the House and Senate. 
In his piece, Biden asks Congress to grant the waiver for Austin as they did for Mattis.
"Lloyd Austin retired from military service more than four years ago. The law states that an officer must have left the service at least seven years before becoming secretary of defense. But I hope that Congress will grant a waiver to Secretary-designate Austin, just as Congress did for Secretary Jim Mattis. Given the immense and urgent threats and challenges our nation faces, he should be confirmed swiftly," Biden wrote.
Rep. Elissa Slotkin (D-Mich.), a member of HASC, signaled Democrats could have some resistance to Biden's pick.
"I have deep respect for Gen. Lloyd Austin. We worked together when he commanded U.S. forces in Iraq, when he was vice chief of the Army, and when he was the CENTCOM commander. But choosing another recently retired general to serve in a role designed for a civilian just feels off," Slotkin wrote.
Rep. Mike Gallagher (R-Wis.) also questioned Austin's expertise on China, as the Pentagon continues to build up a focus on multi-domain operations required to compete in the Indo-Pacific region.
"Gen. Austin is a patriot. But this is not the pick if you believe China is an urgent threat & INDOPACOM (where seapower>land power) is the priority theater. Also, Mattis' waiver was supposed to be a one off, not the start of a trend that's bad for civ-mil relations," Gallagher wrote in a social media post.