The chairman of the House Armed Services Committee said Monday he would like to see Michèle Flournoy selected as president-elect Joe Biden's defense secretary, calling her "hands down the best qualified person for the job."
"That does not mean she is the only person that could do the job. There are a lot of capable people that could more than adequately fill the position. But I think Michèle Flournoy is uniquely qualified," Rep. Adam Smith (D-Wash.) told reporters.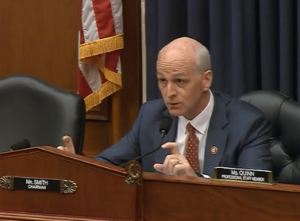 Biden is planning to name his pick to lead the Pentagon on Friday, according to a pool report. The nomination requires Senate confirmation.
Smith cited Flournoy's experience as a former under secretary of defense for policy and said he has voiced his support for Flournoy to Biden's transition team.
Flournoy, who would be the first female defense secretary, has been considered the likely pick to lead the Pentagon, while several other names have been floated recently as an announcement has been delayed amid progressive lawmakers' questions into her ties with the defense industry.
Officials whose names have also come up include Jeh Johnson, a former Homeland Security Secretary during the Obama administration, Sen. Tammy Duckworth (D-Ill.), an Iraq War veteran and Ret. Gen. Lloyd Austin, a former commander of U.S. Central Command.
Smith also said he believes Biden's national security team should focus on re-assessing the current National Defense Strategy, which he called "deeply flawed," with a focus on plans to procure next-generation technology and how the U.S. would confront Russia and China.
"I don't want to stumble into a Cold Way and I certainly don't want to stumble into an actual war," Smith said. "[The Pentagon] has a strong bias towards incumbents. They have a strong bias towards these large weapons systems that last forever and cost a lot of money. That bias is not now serving us well. We're going to have to change that,"
The HASC chairman said the current strategy focuses too much on building toward a select number of capabilities, citing the Navy's recent announcement of a new plan for a 500-ship fleet.
"Good luck with that because we're sitting on about 290 [ships], we've been aspiring to 355 [ships] for my entire time in Congress and we're not getting there. Why aren't we getting there? Because we can't frickin' afford it. I also happen to think that it's not necessary to meet our defense needs," Smith said.