A lead Pentagon official on Thursday detailed the department's approach to the upcoming new National Defense Strategy, which will include "integrated deterrence" as a key focus and lay out an updated force planning construct.
Mara Karlin, the acting deputy under secretary of defense for policy, signaled that while China is the Pentagon's "pacing threat," the new strategy will place a priority on strategic competition factors rather than a sole focus on challenges presented by Beijing.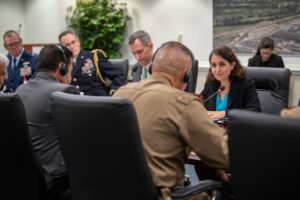 "We will, in many ways, focus on getting after that China challenge while ensuring that we are responsibly working with our closest allies and partners to deal with many of the other challenges that we also see metastasizing and shifting and not going away," Karlin said during a Center for New American Security discussion. "We have to do capability investments. We have to modernize. And we have to compete only where and when it makes sense. That requires some serious rigor. And that rigor gets facilitated by illustrating tradeoffs."
Colin Kahl, the under secretary of defense for policy, said on Wednesday during a Defense One discussion a new National Security Strategy is expected to be released early in the new year, which will be followed by the rollout of the updated National Defense Strategy.
The most recent National Defense Strategy was released in 2018, with the new document set to detail how the administration plans to build on the previous version's emphasis on great power competition with countries such as China and Russia.
Karlin said Defense Secretary Lloyd Austin's focus on pursuing "integrated deterrence" will be a cornerstone of the new strategy, which she described as bringing together cross-domain aspects and a whole-of-government approach to offer a layered deterrence capability.
"I think it's fair to say that our thinking on deterrence has atrophied a bit in sort of a post-9/11 era, I mean really throughout the '90's as well, one could say. I think the concept of integrated deterrence reminds us how it has to be really front and center to how we think about dealing with challenges and, in particular…how you think about your priorities," Karlin said.
On the force planning construct set to be included in the strategy, Karlin noted that the updated plan is especially relevant with the potent challenge of competition with Russia and China simultaneously.
"This National Defense Strategy, like the others, will, of course, have a force planning construct. And as we think through what that looks like we're obviously assessing that security environment, looking through the different approaches that one might take and I would say we're going to do all we can to ensure that it is a credible force planning construct," Karlin said. "We have to be sober and clear-eyed about what we would ask the force to do and make sure that it has the capabilities to actually do that."
Karlin also addressed the recently released Global Posture Review, which she said was more about providing a baselining for the administration to assess the current global footprint and setting a framework for how future posture requirements may be set rather than including announcements about specific force posture changes to take place.
"I think, as you are politely suggesting, some folks might not have seen in it what they thought they would," Karlin said.
During a briefing detailing the Global Posture Review in late November, Karlin did note the document included plans to enhance infrastructure in Guam and Australia with the department's increased focus on the Indo-Pacific region (Defense Daily, Nov. 29).