The White House announced Tuesday that President Biden will nominate State Department Counselor Derek Chollet to be the Pentagon's next top policy official.
Chollet, if confirmed, will succeed Colin Kahl, who stepped down from his post as under secretary of defense for policy earlier this month.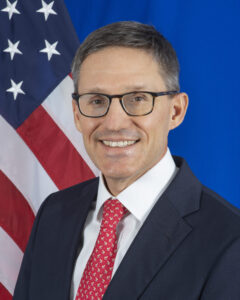 "It has been the greatest honor to serve the American people with [Secretary of State Antony Blinken] and the dedicated State Department team. I am humbled by the opportunity to return to the Department of Defense and work with [Secretary of Defense Lloyd Austin] on our nation's security. I look forward to working with the Senate on my confirmation," Chollet said in a social media post on Tuesday.
Prior to stepping into his current role as a senior adviser to Secretary of State Antony Blinken in January 2021, Chollet served in the Pentagon during the Obama administration as assistant secretary of defense for international affairs during the Obama administration.
The White House noted, from 2016 to 2020, Chollet was executive vice president at The German Marshall Fund of the United States.
During the Obama administration, Chollet also spent time as a special assistant to the president and as senior director for strategic planning on the National Security Council staff.
Chollet's nomination is set to face Sen. Tommy Tuberville's (R-Ala.) ongoing block of nominations and promotions at the Pentagon over his opposition to the department's abortion policy, which Defense Secretary Lloyd Austin has said is causing a "readiness issue" (Defense Daily, July 21).
Kahl in May announced his plans to resign this summer as under secretary of defense for policy, a position he has held since April 2021 (Defense Daily, May 17).
The planned resignation date allowed Kahl to remain in his role as Austin's senior policy adviser through NATO's summit in Vilnius, Lithuania earlier this month.
Sasha Baker, the deputy top policy official at the Pentagon, is currently serving as under secretary of defense for policy in an acting capacity.