President-elect Joe Biden on Monday named his picks for key national security and foreign policy roles in his cabinet, including several former Obama administration officials.
Biden will nominate Antony Blinken for secretary of state and Avril Haines as director of national intelligence, as well as selecting Jake Sullivan to be his national security adviser.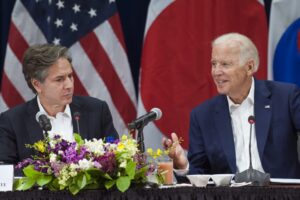 "We have no time to lose when it comes to our national security and foreign policy. I need a team ready on day one to help me reclaim America's seat at the head of the table, rally the world to meet the biggest challenges we face, and advance our security, prosperity, and values," Biden said in a statement.
The former vice president said the slate of officials will be tasked with handling the "defining challenges of our time — from infectious disease, to terrorism, nuclear proliferation, cyber threats, and climate change."
Blinken, former deputy secretary of state during the final two years of Obama's presidency, has worked with Biden on foreign policy for nearly two decades, including advising Biden on supporting the Iraq War vote in 2002.
In 2017, Blinken and Michèle Flournoy co-founded WestExec Advisors, a firm that assists technology companies in assessing contract opportunities with the Pentagon.
Flournoy is considered Biden's likely pick for Secretary of Defense.
If confirmed, Avril Haines would be the first woman to serve as director of national intelligence.
Haines, who has worked as a consultant for WestExec Advisors and Palantir [PLTR], served as the deputy director of the CIA and principal deputy national security adviser during the Obama administration.
Sullivan, who currently serves as a senior policy advisor to Biden, played a key role as lead negotiator in talks that led to the Iran nuclear deal, according to the transition team.
During the Obama administration, Sullivan served as national security adviser to Biden and deputy chief of staff to Secretary of State Hillary Clinton.
Biden has also tapped former Secretary of State John Kerry to serve as Special Presidential Envoy for Climate, noting Kerry will sit on the National Security Council "reflecting the president-elect's commitment to addressing climate change as an urgent national security issue."