A Navy official said they have now developed and demonstrated the utility of a submarine-launched unmanned aerial system (SLUAS) to help target torpedoes.
The Navy used authorities under a middle tier acquisition approved in March 2019 to begin the project in May 2019, with three demonstrations conducted in 2019 and 2020, Rear Adm. David Goggins, program executive officer for submarines, said at the virtual annual Naval Submarine League symposium on Nov. 18.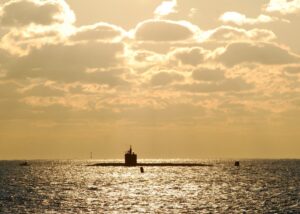 Goggins noted that just eight months after completing the approved capability production documents the Navy conducted an at-sea demonstration of SLUAS on the USS Annapolis (SSN-760).
"And it was great, Annapolis was able to launch 12 of 12 of the SLUAS from periscope depth, control them out to tactically significant ranges well beyond the line of sight," Goggins said.
"By doing so, she was able to target and conduct a rapid simulated torpedo attack against a participating surface ship, in this case the USS Charleston (LCS-18), pretty much at near maximum effective range of that torpedo – by employing that UAV to obtain a fire point solution after getting that initial sonar gain," he continued.
Goggins said this is "a pretty awesome capability to provide to the fleet."
The Navy current has five SLUAS ship sets today and plans to continue delivering the capability. The SLUAS was deployed with the fleet in September after DIE completed the final flyoffs in July.
Another demonstration was conducted against a surface ship and land site. The Navy has used 21 SLUAS UAVs in demonstration so far.
Goggins underscored the Navy team reached this capability by leveraging other transaction authorities (OTAs) via the Defense Innovation Unit (DIU) in California.
"The key thing now we're really working on is the evolution of that capability going forward," he added.
Earlier this month, the Navy posted a Request For Information (RFI) seeking white papers to determine capabilities for the SLUAS for Intelligence, Surveillance and Reconnaissance (ISR) missions (Defense Daily, Nov. 3).
Under the RFI, the Navy is seeking information on a SLUAS to focus on ISR single mission systems but also have a design flexible enough for allow for future modifications and payloads in the future.