Sweden's Saab said Tuesday that the United Arab Emirates plans to buy two more of the company's GlobalEye airborne early warning aircraft, with the deal potentially valued around $1 billion.
Company officials at the Dubai Air Show detailed the contract update, which would raise the UAE's total GlobalEye order to five aircraft, and noted that the deal has not been formally finalized with plans to move into final negotiations soon.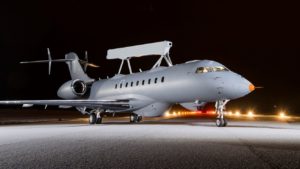 The UAE is the first customer for GlobalEye, which is a modified version of Bombardier's Global 6000 jet outfitted with Saab's extended range radar and suite of sensors to identify and track targets. 
Saab announced the initial $1.3 billion development and production contract for GlobalEye from the UAE at the 2015 Dubai Air Show, which included delivery of two aircraft. In 2017, the UAE placed an additional $238 million order for a third aircraft. 
Delivery of the first GlobalEye aircraft to the UAE is scheduled for April 2020.