The State Department on Thursday approved a potential $650 million deal with Saudi Arabia for the sale of Raytheon Technologies' [RTX] AIM-120C Advanced Medium Range Air-to-Air Missiles (AMRAAM).
The deal arrives as lawmakers have scrutinized future plans for arms sales to Saudi Arabia over human rights concerns, with the Biden administration previously pausing a separate munitions deal with Riyadh that had been approved during the Trump presidency.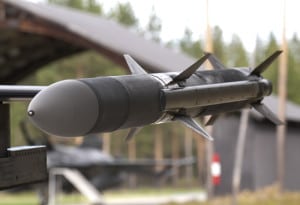 "We've seen an increase in cross-border attacks against Saudi Arabia over the past year. Saudi AIM-120C missiles, deployed from Saudi aircraft, have been instrumental in intercepting the persistent UAS attacks that have put U.S. forces at risk and threatened the more than 70,000 U.S. citizens in the Kingdom. The AIM-120C is an Advanced Medium-Range Air-to-Air Missile which is not used to engage ground targets. We are moving forward with notifying Congress of this proposed sale to replenish Saudi Arabia's existing inventory in keeping with the president's commitment to support the territorial defense of Saudi Arabia," a U.S. Department of State spokesperson said in a statement
The proposed foreign military sale with Saudi Arabia would cover 280 AMRAAM missiles and nearly 600 LAU-128 missile rail launchers.
The State Department noted the missiles would be used to support Saudi Arabia's fleet of Eurofighter Typhoon, F-15C/D, F-15S, and F-I5SA aircraft. 
In August, Democrats on a Senate Foreign Relations Committee panel urged State Department and Pentagon officials to detail the strategic necessity of such deals and asked for information on reports conducted to assess potential human rights violations (Defense Daily, Aug. 10). 
"We do need to step back and reevaluate lots of these issues. You'd both agree, I believe, that it's not in our security interest when a recipient of U.S. weapons or other forms of security assistance uses them as a tool of repression or to crack down on human rights," Sen. Chris Van Hollen (D-Md.) said at the time. 
During his first week in office, Biden directed the State Department to pause and review several ongoing weapons sales that were approved during the Trump presidency, including the sale of Raytheon-built Paveway bombs to Riyadh and a massive $23 billion arms deal with the United Arab Emirates (Defense Daily, Jan. 27). 
The administration in April ultimately decided to move ahead with the UAE deal, which includes, $10 billion for 50 F-35A strike fighters, $2.9 billion for 18 MQ-9B Reaper drones and $10 billion for a range of munitions, while it still faces a pending legal challenge from the New York Center for Foreign Policy Affairs (NYCFPA) that aims to block the agreement (Defense Daily, April 14).