The Biden administration has directed the State Department to pause and review several ongoing weapons sales that were approved during the Trump presidency, to likely include the massive $23 billion arms deal with the United Arab Emirates.
A State Department official confirmed to Defense Daily the review will include a group of Foreign Military Sales and Direct Commercial sales "to allow incoming leadership an opportunity to review."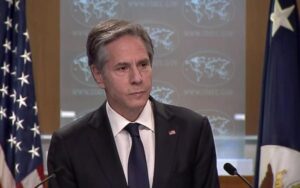 "This is a routine administrative action typical to most any transition, and demonstrates this Administration's commitment to transparency and good governance, as well as ensuring U.S. arms sales meet our strategic objectives of building stronger, interoperable, and more capable security partners," the department official said.
News of the weapons sale reviews, first reported by Bloomberg, arrives a day after the Senate confirmed Antony Blinken as Biden's secretary of state.
"Generally speaking, when it comes to arms sales, it is typical at the start of an administration to review any pending sales to make sure that what is being considered is something that advances our strategic objectives and advances our foreign policy. So that's what we're doing at this moment," Blinken said during a press conference Wednesday.
The department official would not comment on specific cases that are being reviewed or how long the pause will be in effect.
The move, however, signals the Biden administration will likely pay particular attention to the $23 billion deal with the UAE that was approved after the November election and which included $10 billion for 50 F-35As, $2.89 billion for 18 MQ-9B Reaper drones and $10 billion for a range of munitions.
In December, the Republican-led Senate voted down resolutions, introduced by Sens. Chris Murphy (D-Conn.), Bob Menendez (D-N.J.) and Rand Paul (R-Ky.), which looked to stop the sale over concerns UAE could use the equipment in the ongoing conflict in Yemen and potentially transfer sensitive information on the military hardware to Russia or China (Defense Daily, Dec. 10). 
The review effort may also include several weapons deals with Saudi Arabia that were cleared during the Trump administration, which covered the sale of Raytheon [RTX]-built Paveway bombs to Riyadh.
During an earnings call on Tuesday, Raytheon said that a direct commercial sale of an offensive weapon that had been approved during the Trump administration would likely be blocked by Biden's State Department (Defense Daily, Jan. 26).