The Senate on Wednesday evening voted down two measures aimed at blocking the White House's planned $23 billion arms sale to the United Arab Emirates.
The resolutions, introduced by Sens. Chris Murphy (D-Conn.), Bob Menendez (D-N.J.) and Rand Paul (R-Ky.), would have looked to stop the sale over concerns UAE could use the equipment in the ongoing conflict in Yemen and potentially transfer sensitive information on the military hardware to Russia or China.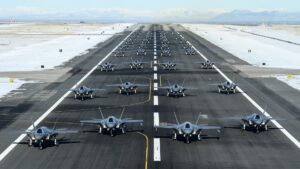 "Rushing through massive sales of Reaper drones and our most advanced fighter jets to the Middle East just makes defense companies richer and international security poorer. There is no doubt that the UAE's recent normalization agreement with Israel is a big deal, and there is a level of arms transfer that could make sense for an important partner in the region. But the Emiratis' recent behavior in Yemen and Libya where U.S. weapons were misused and given to radical militias, on top of their active and growing defense relationships with China and Russia, should give everyone pause," Murphy said in a statement.
In November, the State Department approved the FMS with UAE covering $10 billion for 50 F-35As, $2.89 billion for 18 MQ-9B Reaper drones and $10 billion for a range of munitions (Defense Daily, Nov. 10).
A first measure covering the Reaper drones and munitions failed by a vote 46 to 50, with Paul as the sole Republican to vote 'yes' and Sens. Mark Kelly (D-Ariz.) and Kyrsten Sinema (D-Ariz.) as the only two Democrats that voted against the measure.
Raytheon Missiles & Defense [RTN], which would supply several of the munitions included in the deal, is headquartered in Kelly and Sinema's state of Arizona.
The second measure focused on the sale of F-35s to the UAE was rejected by a vote of 47 to 49, with only Kelly switching his vote to "no."