The Marine Corps has approved BAE Systems' Amphibious Combat Vehicle (ACV) for full-rate production and has placed a $184.4 million order for 36 vehicles.
Marine Corps officials also announced Wednesday evening the ACV program reached Initial Operational Capability on Nov. 13.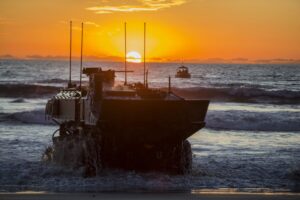 "As the ACV enters into service it will be providing highly advanced solutions for conducting maritime-based warfare operations and will play a vital role in the Marine Corps' complex and challenging missions," John Swift, BAE Systems' director of amphibious programs, said in a statement. "For BAE Systems, full-rate production validates years of dedication and teamwork in partnership with the Marines to introduce this capability to the warfighter and leave our adversaries on the battlefield at a marked disadvantage. We are proud of our role in the program."
The ACV program is expected to reach Full Operational Capability in fiscal year 2028.
BAE Systems has received three low-rate initial production orders to date for ACV, most recently receiving a $113.5 million deal for 26 vehicles (Defense Daily, Feb. 26).
Work on the first full-rate production order is expected to be completed by November 2022.
The Marine Corps has said it will go with a family of vehicles approach for ACV built around three additional variants: a turreted version (ACV-30), a command and control platform (ACV-C), and a recovery variant (ACV-R).