BAE Systems has received a $173.6 million production order from the Marine Corps covering delivery of 36 more Amphibious Combat Vehicles (ACV).
Deliveries of the ACV base personnel vehicles under the new Lot 2B full-rate production order, officially awarded on March 25, will begin in the third quarter of 2023, a BAE Systems spokesperson told
Defense Daily.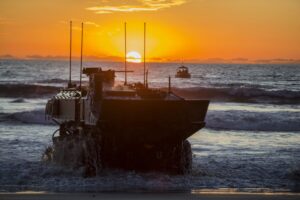 The latest production deal follows the Marine Corps' award of a $34.9 million deal to BAE Systems for design and development of the ACV's recovery variant (ACV-R) on March 18.
"The recovery variant will provide crucial recovery capability in the amphibious fleet," John Swift, BAE Systems' vice president of amphibious programs, said in a statement. "It also expands the ACV family of vehicles and demonstrates the base vehicle's proven design, allowing it to be seamlessly integrated into the fleet without compromising performance."
BAE Systems noted the ACV-R contract covers a 20-month period for the first phase of the program, focused on developing the variant, which will be followed by a second phase covering delivery of test vehicles for evaluation.
The Marine Corps is pursuing a family of vehicles approach for ACV, which includes the base personnel platform, the ACV-R, as well as a turreted version (ACV-30) and a command and control platform (ACV-C).
The first ACV-Cs were delivered to the Marine Corps in early 2021 for testing and Swift told Defense Daily at the time an eventual production contract for the variant is likely to be awarded in 2023 and would cover about 30 vehicles (Defense Daily, Feb. 18 2021).
BAE Systems was also previously awarded a design and development contract for the ACV-30, with the company selecting Kongsberg in May 2020 to provide its Medium Caliber Turret-30mm for the vehicle variant (Defense Daily, May 13 2020).
The ACV-30 program is heading into a critical design review this spring, a BAE Systems spokesperson told Defense Daily.
"Additionally, BAE Systems has received task instructions from the Marine Corps to complete a study of incorporating advanced reconnaissance, command, control, communication and computers/unmanned aerial systems mission payload into an ACV variant," the company wrote in its announcement on ACV-R deal.