BAE Systems has delivered the first command and control variant of the new Amphibious Combat Vehicle (ACV-C) to the Marine Corps for testing, with two more vehicles set to be delivered by the end of March.
John Swift, the company's director of amphibious programs, told Defense Daily an eventual production contract for the ACV-C variant is likely to be awarded in 2023 and would cover around 30 vehicles.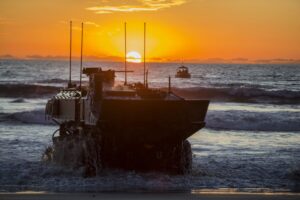 "The three vehicles for the ACV-C will enter into a truncated [Engineering & Manufacturing Development] phase. So they will go into testing for a year," Swift said. "And then from there the Marine Corps will make an award to enter into subsequent deliveries for production articles."
The first ACV-C was delivered at the end of January, with the Marine Corps to accept the second and third vehicles at the end of February and March, respectively.
"The delivery of the first ACV-C is significant as it provides Marines with advanced operational control for defeating adversaries. Marines will be able to quickly receive and analyze data, coordinate battlefield functions, and transmit information to provide terminal mission control rapidly from the mobile protected ACV-C," Swift said in a statement.
BAE Systems received a $67 million contract modification in June 2019 to develop the ACV-C as well as a version of the vehicle outfitted with a 30mm medium caliber turret, called ACV-30 (Defense Daily, June 25 2019). 
Swift said BAE Systems is working through production verification testing for an initial ACV-30 platform now, with plans to deliver the vehicle to the Marine Corps early next year.
"[That vehicle] will validate the requirement and it will go through limited testing and it will be followed by several more vehicles to enter into that truncated EMD test cycle similar to the ACV-C," Swift said. 
BAE Systems said last May it had selected Kongsberg to provide its Medium Caliber Turret-30mm for ACV-30, and Swift said delivery of test articles will take place over the next two months (Defense Daily, May 13 2020). 
The Marine Corps is also planning to field a recovery variant, called ACV-R, with officials currently working through validating and building requirements.
Swift said BAE Systems expects a contract award for ACV-R development to arrive in late 2021. 
Across the Marine Corps' total acquisition objective for 632 ACVs, Swift said the approximate numbers for each of the variants will total around 30 ACV-Cs, 30 ACV-Rs and 150 ACV-30s. 
Last week, the Marine Corps awarded BAE Systems a second full-rate production order worth $184 million for 36 more of the base ACV personnel variant (Defense Daily, Feb. 11).