Volansi, a Silicon Valley-based drone maker, on Wednesday unveiled its new VOLY 50 series unmanned aerial vehicle (UAV), with the platform designed for long-range flight and the ability to handle a range of payloads with a 50-pound cargo capacity.
Shane Hastings, the company's vice president of program management, told Defense Daily
that the solution Volansi is offering with Sierra Nevada Corporation (SNC) for the Army's Future Tactical Unmanned Aircraft System (FTUAS) Increment 2 program is based on the new 50 series platform.
"We're really excited because the current 50 system is closing [on] our performance models, [so] for the variant that we need to create for FTUAS we'll have a good shot at making that happen in the timeline for the FTUAS program," Hastings said.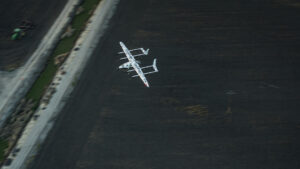 Volansi and SNC announced in December the Army had approved their white paper for FTUAS Inc. 2, allowing the team to officially propose their solution for the program to find an enduring replacement for the service's Shadow drones (Defense Daily, Dec. 23).
"But we also had to recognize there were some requirements on that program that we're going to have to modify the 50 to meet. We already have concepts in-house ready to go and we feel confident that we can take the 50 as is and make the designs to meet the FTUAS requirements," Hastings said.
Volansi said the VOLY 50, depending on specific payload configurations, can reach ranges above 400 miles and is capable of cruising at up 80 knots for up to 11 hours "in a single mission set."
"The VOLY 50 was designed with the flexibility to meet the growing demand for rapid delivery of critical assets as well as to conduct ISR missions using a small operational footprint," Hannan Parvizian, Volansi's CEO and co-founder, said in a statement. "With its long-haul capability and modular design, the VOLY 50 represents a new opportunity to completely disrupt how critical assets are delivered, by minimizing personnel and filling the gap where traditional delivery mechanisms were unable to achieve the mission."
Hastings noted the first VOLY 50 was officially built last June, with Volansi running a hover campaign from July through September, before achieving first flight in December.
A second VOLY 50 has now been built and is going through its hover campaign, with a third drone currently in final build at the company's Bend, Oregon facility, according to Hastings.
"We are taking our time as we bring this vehicle up, making sure that with every flight we take the data, we analyze the data to make sure that the empirical data captured is supporting our models," Hasting said, adding the platform has achieved 10 flight hours to date.
Volansi has shown the VOLY 50 to "some key partners," according to Hastings, who said the company is anticipating holding more demonstrations with industry partners and potential customers.
Hastings said Volansi has spoken to at least one military customer about the concept of having an ISR platform, such as the 50 series, that is capable of deploying smaller multi-rotor systems from its cargo hold.
"I think there is an opportunity for this vehicle to have a system-in-system sort of approach where it can carry other unmanned systems," Hastings said. "But to say that we're optimized for that right now, we are not. That is a future state that I would like get to using this vehicle as the pathway to get there."
Last July, Volansi completed the first-ever completely autonomous maritime drone delivery demonstration with the Navy and Coast Guard near Key West, Florida, which consisted of three flights of the company's VOLY 10 and 20 Series platforms (Defense Daily, Aug. 9 2021).
"I think that really unlocked a little more interest into Volansi as a company and the ability to actually provide a Group 3 platform that can do multi-mission [capabilities]," Hastings said. "And it really started to explore the art of the possible with being able to take off from a ship, find a [Rigid Inflatable Boat] that was a mile away from the ship, locate it, perform a payload drop of critical materials, stream video back to the ground control station and come back and land on a vessel. That generated quite a bit of interest."